Celtics vs Heat Eastern Finals Betting Odds, Trends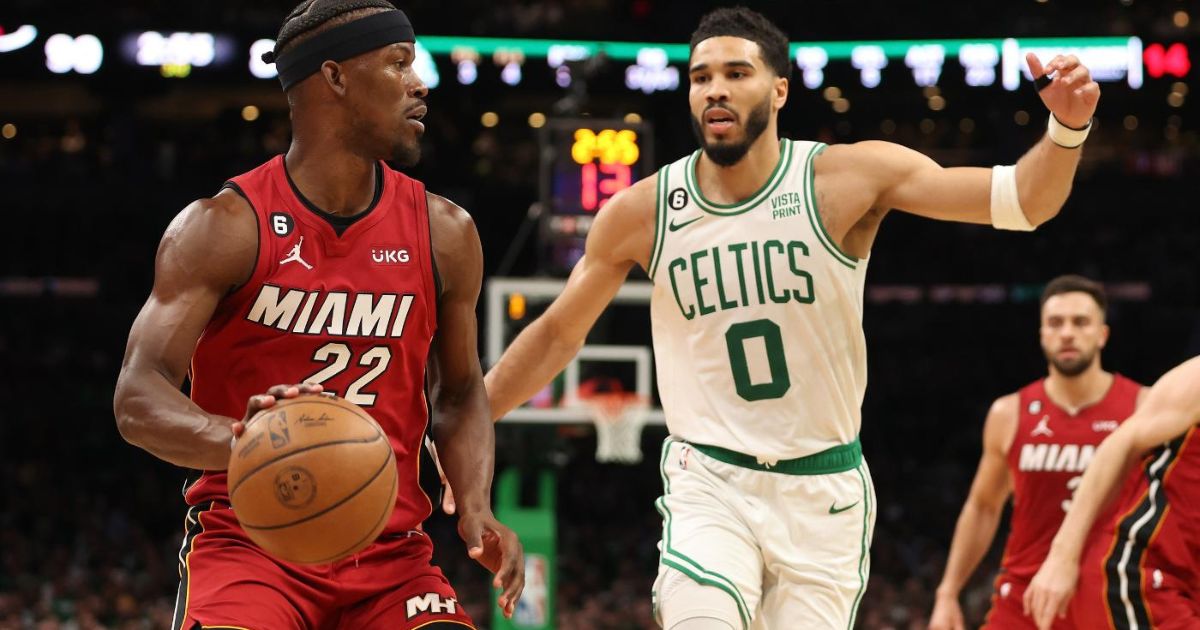 Here are the Celtics vs Heat betting odds and trends for the second game of the Eastern Conference Final.
 Celtics vs Heat Betting Odds Game 2
Here are the Celtics vs Heat betting odds for Eastern Conference Finals Game 2:
Miami Heat +9, ML +315
Boston Celtics -9, ML -410
Total: 215.5 Over/Under
The Celtics lost the first game of the series at home, and they definitely need to put up their best game if they want to win the second at TD Garden before the series moves to Miami for two extra games as visitors.
And that is precisely why Boston are huge -9 favorite to get the victory in front of their fans, making the Heat a very interesting betting underdog at +9.

Celtics vs Heat Betting: Moneyline Trends
Boston has been the favorite in 74 games this season, and they have triumphed 53 times (71.6% of the time) in those games.
This season, Boston has won 14 of 22 times when set as a favorite of at least -414 or more on the moneyline.
The moneyline odds for this game indicate that Boston has an 80.5% chance of winning.
Miami has an 8-16 record this season and has won 33.3% of their games despite being the underdog.
Only once this season has Miami faced a moneyline underdog of +320 or more, and that game resulted in a loss.
According to the moneyline's implied probability, Miami has a 23.8% chance of winning this contest.
Celtics vs Heat Betting: Against the Spread Trends
The Heat allow 109.8 points per game, compared to the Celtics' 117.9 points per contest.
Boston has a 49-12 overall record when scoring more than 109.8 points and a 39-20-2 record against the spread.
Miami is 39-26 overall and 26-36-3 against the spread while conceding less than 117.9 points.
Only 1.9 points less are scored by the Heat (109.5) than by the Celtics (111.4) on average per game.
Miami is 26-8 overall and 17-16-1 against the spread when scoring over 111.4 points.
When giving up less than 109.5 points, Boston is 31-5 overall and 28-7-1 against the spread.
The Celtics are the fourth-highest scoring team in the NBA (117.9 PPG), while the Heat are the league leader in points allowed per game (109.8).
Miami has the NBA's lowest scoring offense (109.5 PPG), while Boston has the fourth-best defense (111.4).
The Celtics have outscored their opponents by a total of 535 points this season (an average of 6.5 per game), whereas the Heat have been outscored by opponents on average this year (by a total of 26 points, or 0.3 per game).
Celtics vs Heat Betting: Total Over/Under Trends
Boston's suggested season total was 117.5 points, which is 5.5 points higher than their implied season total of 112 points from the game on Friday.
In 56 games so far this season, Boston has scored more than 112 points.
The team's implied total for this game (103 points) is 9.4 points below than Miami's season-average implied point total (112,4).
We wish you the best of luck with your Celtics vs Heat betting action, and we invite you to sign up for a free YouWager.lv account, and grab a 100% crypto bonus on your first deposit.