Suns vs Nuggets NBA Playoffs Betting Odds, Preview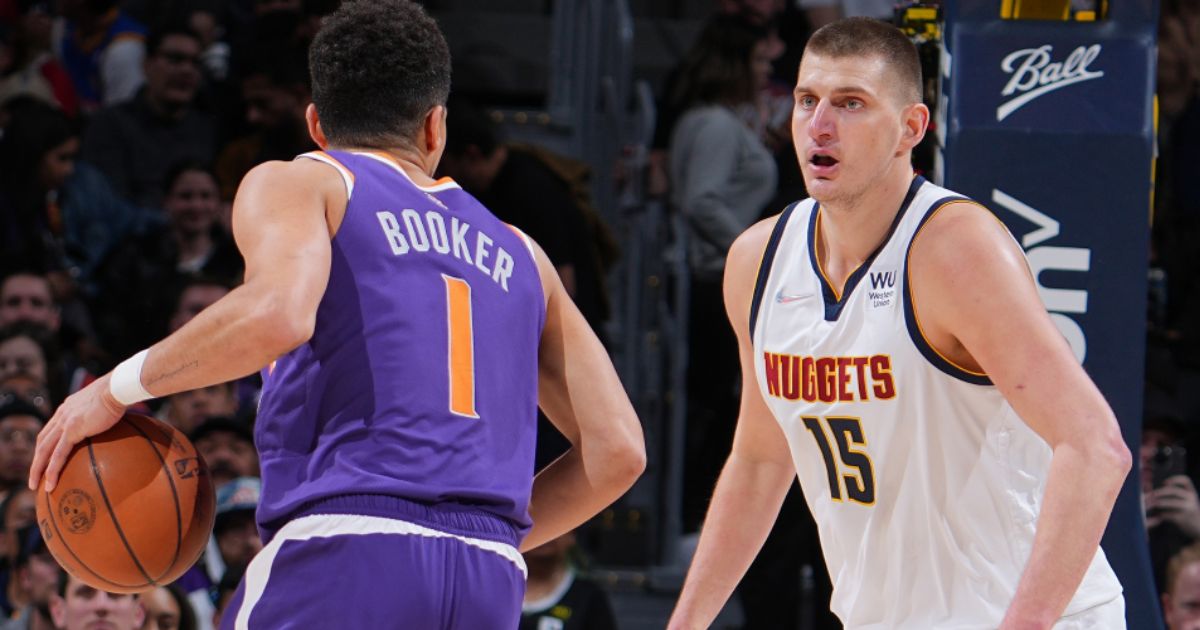 Here are the Suns vs Nuggets NBA Playoffs Betting Odds and a preview of this Conference Semifinal series.
In the Western Conference Semifinals, the top-seeded Nuggets will play the fourth-seeded Suns. In the first round, the Nuggets took care of business.
With help from two-time MVP Nikola Jokic and a back-to-form Jamal Murray, Denver beat a tough Minnesota team in just five games. Phoenix also finished the job in five games. It relied on its two stars, Devin Booker and Kevin Durant, to get rid of the injury-plagued LA Clippers in the first round.
Since getting Durant at the trade deadline, the Suns are now 12-1 when he plays, with the only loss coming in Game 1 against the Clippers. With future Hall of Famer Chris Paul setting the table, Durant and Booker are creating a beautiful balance on the offensive end.
The Nuggets have the best regular-season record in the West, but their achievements have been ignored all season. Even though Denver has been the best team in the West for the past year, Phoenix is often seen as the most title-ready team.
Which team with a lot of stars will get a step closer to the NBA Finals? The Western Conference Semifinals game between the Suns and the Nuggets is talked about in the Sporting News.
Suns vs Nuggets NBA Playoffs Betting Odds
Here are the Suns vs Nuggets NBA Playoffs Betting Odds, brought to you by YouWager.lv:
Phoenix Suns: Point Spread +2.5, Money Line +120
Denver Nuggets: Point Spread -2.5, Money Line -140
Total: 224.5 Over/Under

Nuggets vs Suns Schedule
Here is the Nuggets vs Suns schedule for this Conference Semifinal Series:
| | | | |
| --- | --- | --- | --- |
| Date | Game | Time (ET) | TV channel |
| April 29 | Game 1 | 8:30 p.m. at Nuggets | TNT |
| May 1 | Game 2 | 10:00 p.m. at Nuggets | TNT |
| May 5 | Game 3 | 10:00 p.m. at Suns | ESPN |
| May 7 | Game 4 | 8:00 p.m. at Suns | TNT |
| May 9 | Game 5* | TBD at Nuggets | TNT |
| May 11 | Game 6* | TBD at Suns | ESPN |
| May 14 | Game 7* | TBD at Nuggets | TBD |
Suns vs. Nuggets 2022-23 Regular Season Series
Dec. 25, 2022: Nuggets 128, Suns 125 (OT)
Jan. 11, 2023: Nuggets 126, Suns 97
March 31, 2023: Suns 100, Nuggets 93
April 6, 2023: Suns 119, Nuggets 115
When the two teams first played each other on Christmas, Booker tried to play with a hip injury, but he could only play for four minutes. He would then miss the Suns' next 21 games, including their Jan. 11 loss to the Nuggets.
In late March, the new-look Suns played their first game against the Nuggets. Booker and Durant were on the court, but Jokic, Murray, and Michael Porter Jr. were all out for Denver.
When the two teams met for the fourth and last time during the regular season, there wasn't much at stake. And while Phoenix had all of its stars, Denver was once again without its top three players. However, Bruce Brown's 31 points kept things interesting.
Simply put, these top teams from the Western Conference haven't met at full strength this season, which makes this Semifinals matchup even more interesting.
Nuggets vs Suns Key Storyline: Who's The Best Player in the Series?
The last time The Sporting News ranked the top 30 NBA stars, Jokic was in second place, Durant was in fourth place, and Booker was in 12th place. Even though Ayton, Murray, Paul, and Porter didn't make the list, each of them could have had an effect on a seven-game series like a top-30 player.
Simply put, the Western Conference Semifinals won't be short on ability.
In the playoffs, the team that moves on is often the one with the best players. Booker, Durant, Jokic, and Murray all have a good chance of leading their teams to four wins in this series.
In the first round, both Booker and Durant did a great job. And while Durant was great at making plays for himself and others on offense, Booker became a real difference-maker on defense while putting together some of the best scoring games of his playoff career.
Jokic is a two-time Most Valuable Player for the Nuggets. He can take charge of the game with his playing skills and knowledge of basketball. Murray is bringing up thoughts of his time in the 2020 NBA "Bubble," as shown by the fact that he scored 40 points in Game 2 of an opening-round win over the Timberwolves in a close game.
Booker's ability to make a difference in both directions could be what sets him apart from the other talented players in this game. If Booker does step up, it could be the next step in a playoff run that will define the 26-year-old's career.