2023 Kentucky Derby Odds, Predictions, Contenders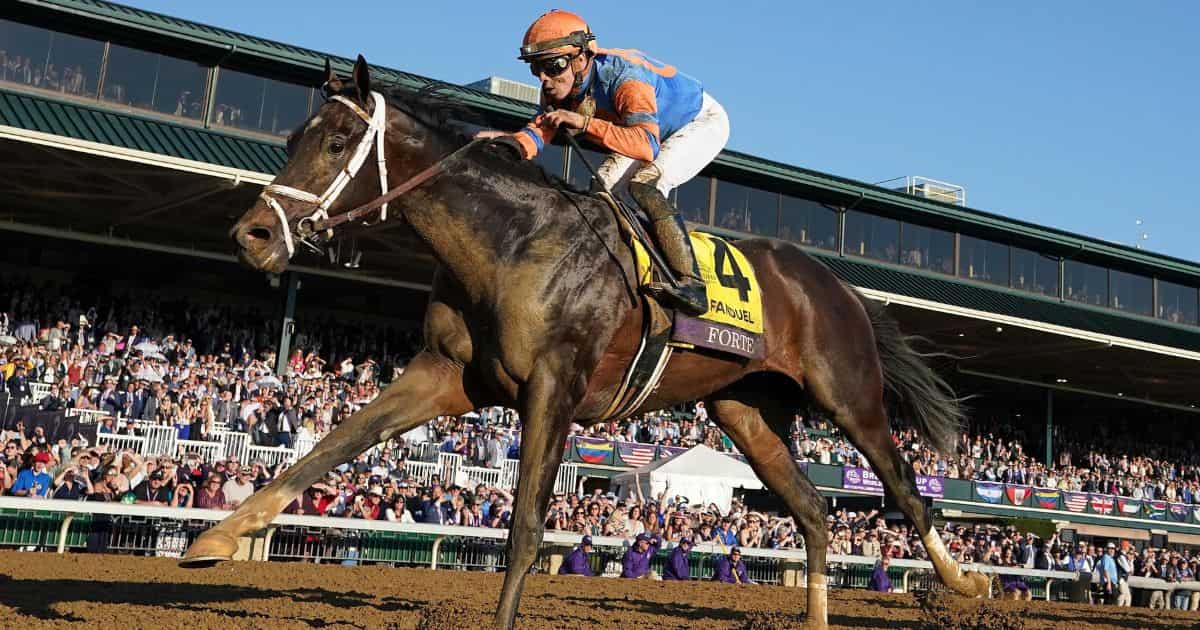 When he rides Florida Derby runner-up Mage in the 2023 Kentucky Derby on May 6 at Churchill Downs, jockey Javier Castellano will try to break his curse. The 45-year-old was supposed to ride Raise Cain in the Kentucky Derby 2023, but he asked to switch to riding Mage instead. Castellano has never won the Run for the Roses. He has only ever come in third place. In the chances for the Derby in 2023, Mage is a 46-1 long shot. Forte, who won the Florida Derby, is the favorite at 5-2 to win the Derby. Tapit Trice and Kingsbarns are next at 11-1.
The race will start at 6:57 p.m. ET in 2023. On the first Saturday of May, 20 horses are going to leave the starting gate.
Top 2023 Kentucky Derby Predictions
Even though Tapit Trice is one of the top picks, we don't think he will win. Tapit Trice was bought for $1.3 million two years ago. He is the most expensive horse in the 2023 Kentucky Derby field. He just won the Blue Grass Stakes.
But Tapit Trice has a way of running where he comes from behind. Because of this, he might be stuck in traffic or have to move slowly. We don't think that circle-the-field running style will help the horse in the 20-horse Kentucky Derby, so this low price isn't good.
Another surprise is that we really like Mage, even though he is a 46-1 long shot. He's a target for people who want to make a lot of money quickly. Mage has only made three starts in his life. He just had his best race ever in the Florida Derby, where he came in second. The favorite for the 2023 Derby, Forte, caught him in the last few steps.
We like that Mage showed speed right away in his first game. In a race where most of the top contenders like to come from behind, this could be a useful trait. If he can get out of the starting gate (which is a big if), he has good tactical speed and could even be in the lead.
2023 Kentucky Derby Odds, Horses
| Horse | ODDS |
| --- | --- |
| Angel of Empire | 29-1 |
| Arctic Arrogance | 99-1 |
| Blazing Sevens | SCR |
| Bourbon Bash | 99-1 |
| Classic Car Wash | 99-1 |
| Confidence Game | 29-1 |
| Continuar | 54-1 |
| Cyclone Mischief | 88-1 |
| Derma Sotogake | 13-1 |
| Disarm | 33-1 |
| Dreamlike | 99-1 |
| Dubyuhnell | 99-1 |
| Fort Bragg | 58-1 |
| Forte | 5-2 |
| Geaux Rocket Ride | 33-1 |
| Hayes Strike | 99-1 |
| Hit Show | 30-1 |
| Don't Get It | 99-1 |
| Instant Coffee | 49-1 |
| Jace's Road | 99-1 |
| Kingsbarns | 11-1 |
| Mage | 46-1 |
| Mandarin Hero | 99-1 |
| Mendelssohns March | 99-1 |
| National Treasure | 44-1 |
| Practical Move | 14-1 |
| Raise Cain | 81-1 |
| Red Route One | 24-1 |
| Reincarnate | 24-1 |
| Rocket Can | 32-1 |
| Shadow Dragon | 99-1 |
| Skinner | 49-1 |
| Slip Mahoney | 99-1 |
| Sun Thunder | 99-1 |
| Tapit Trice | 11-1 |
| Two Eagles River | 38-1 |
| Two Phil's | 21-1 |
| Verifying | 50-1 |
| Wild on Ice | 99-1 |
| All Other 3-Year Olds | 17-1 |
Learn how to bet on horses and then head to YouWager.lv, and bet the Kentucky Derby with a 100% first crypto bonus:

Kentucky Derby Betting Odds: Blazing Sevens Scratched
Blazing Sevens, who finished third in the Grade 1 Blue Grass at Keeneland on April 8, will not run in the Kentucky Derby in 2023. Instead, he will try to run in the Preakness.
Blazing Sevens decided not to run in the Derby, so Jace's Road goes into the 20th and last spot in the field for the race on May 6 at Churchill Downs.
On March 25, Jace's Road came in third place in the Grade 2 Louisiana Derby. This gives trainer Brad Cox in Louisville a fourth horse for the Kentucky Derby.
Cox also trains Angel of Empire, who won the Arkansas Derby. Hit Show, who came in second in the Wood Memorial, and Verifying, who came in second in the Blue Grass.
In the Derby, Florent Geroux is set to ride on Jace's Road.
Chad Brown trains Blazing Sevens. Last year, he skipped the Derby with Early Voting and won the Preakness with him.
Skinner is now No. 21 on the list of horses with the most points for the Derby. He only needs one horse to drop out of the race to make it into the race. On April 8, Skinner, who was trained by John Shirreffs, came in third place in the Grade 1 Santa Anita Derby. On Sunday at Santa Anita Park, he went six furlongs in 1:13.40.
Kentucky Derby Betting FAQ's
Now in this Kentucky Derby preview, we have the frequently asked questions related to the Kentucky Derby.
How big is the Kentucky Derby track?
The race is one and a quarter miles long and takes place on a dirt track at Churchill Downs in Louisville, Kentucky. In the race, the colts and geldings carry 126 pounds (57 kg) and the fillies carry 121 pounds (55 kg).
Can any horse run in the Kentucky Derby?
The Kentucky Derby is only open to male or female racehorses who are 3 years old. This means that a Thoroughbred can only run in the race once in their lifetime. Horses must first be nominated for the Triple Crown and then win points in a number of races to qualify for the Kentucky Derby.
How many horses can run in the Derby?
There can only be 20 runners in the Derby. Regret (1915), Genuine Risk (1980), and Winning Colors (1988) are the three fillies that have won the Derby.
How fast is a Kentucky Derby horse?
In the Kentucky Derby, how fast do the horses run? Most of the horses in the Derby run at about 37 mph. The fastest racehorse ever was 43.97 mph, but this wasn't measured at the Derby.
What makes the Derby so special?
It is the first leg of the American Triple Crown. The next two legs are the Preakness Stakes and the Belmont Stakes. The Kentucky Derby is the only one of the Triple Crown races that has been held every year since its first race in 1875.
What are 3 traditions of the Derby?
Mint juleps, which are iced cocktails made of bourbon, mint, and sugar, are a long-standing custom at the Derby, as are fancy hats worn by female spectators and loud parties in the track's infield.