San Diego State vs. Furman Betting Odds, Prediction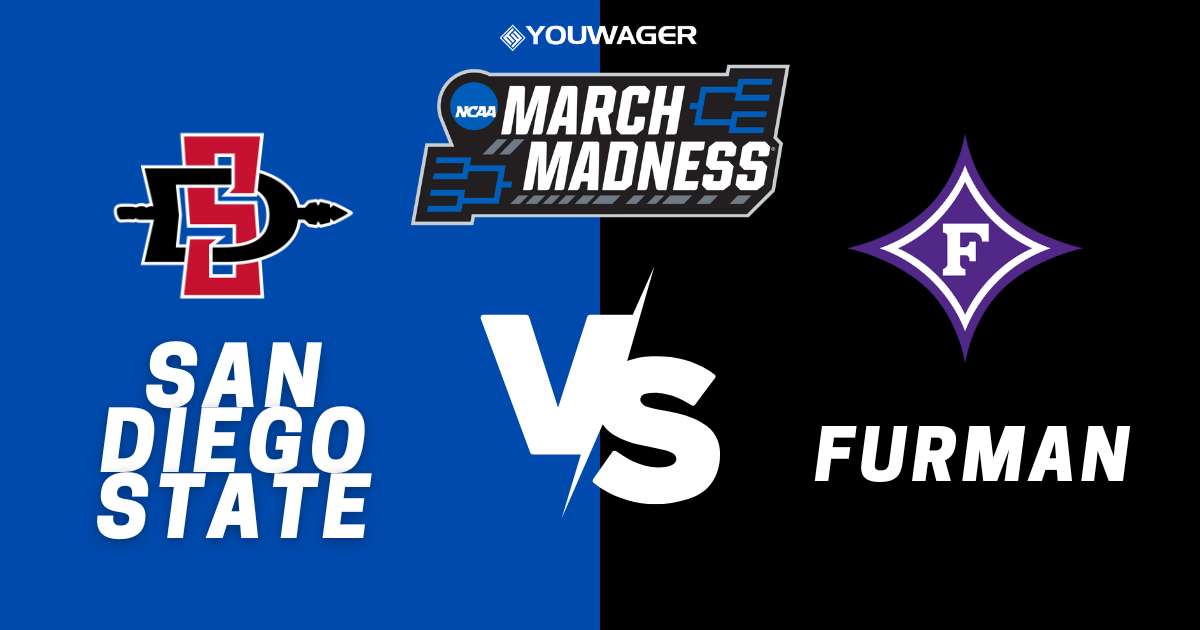 Here are the San Diego State vs. Furman Betting Odds and our prediction for this game.
March Madness always gets a lot of attention, and the first two days did not let anyone down. On the first day of the season, the first two games were all decided by two points or less. One of those games was the Furman upset. San Diego State's 63-57 game against Charleston was also close. In March, the score doesn't matter. It's all about staying alive and moving on.
Our experts have given their picks for San Diego State vs. Furman, which is expected to be one of the closest games left in the first round, along with odds from YouWager.lv Sportsbook.
SAN DIEGO STATE VS. FURMAN PREDICTION: Furman +5.5 (-110 at YouWager.lv)
Sign up for an account at YouWager.lv by clicking here. Make a deposit just in time to bet on San Diego State vs. Furman and you'll get a 100% crypto bonus on your first deposit.
Basketball between the San Diego State Aztecs and the Furman Paladins Predictions for the NCAA Tournament on Saturday Clash
Furman's 68-67 win over the #4 seed Virginia Cavaliers on Thursday was one of the most exciting games. Furman stayed in the game the whole time and made a late run to get within two points, but Virginia had the ball with less than ten seconds left.
As soon as Virginia passed the ball back to Furman, they were trapped in the corner. This made Virginia's senior point guard Kihei Clark panic and throw the ball up to mid-court. Garrett Hiem, a Furman forward, stole the ball and found JP Pegues open for a three-point shot. Virginia could have won, but their three-point shot missed. Furman basketball had a great win.
SDSU took care of business in their first-round game against the 12-seed Charleston Cougars, beating them 63-57. This game was not at all pretty, but senior guard Matt Bradley scored 17 points and got seven rebounds to help the Aztecs win.
The fact that these two teams are so different makes this one of the most interesting games of the second round. We think Furman will keep this game close until the end and could even pull off the upset.

San Diego State vs. Furman Picks, Player Props & Best Bets
Both of these teams are very different. SDSU is built around their defense. On the other hand, KenPom.com says that Furman is one of the top 40 teams in terms of how well they score goals.
According to sports-reference.com, Furman has the second-best two-point percentage per game in college basketball. While San Diego State's defense ranks seventh in the country in two-point percentage defense and fourth in field goal percentage as a whole, the team's offense ranks fifth in the country. Early on, this game could turn into a fight, and we'll see whether the offense or defense wins.
We'd go after players like Matt Bradley of SDSU and Jalen Slawson of Furman in terms of player props. Bradley scored 17 points against Charleston, but in the second half, it looked like he was hurt in some way. So, when we can, we'd bet on the under on his total points if it's at 18.5 or higher.
Slawson, on the other hand, should have another big game after scoring 19 points and getting 10 rebounds against Virginia. The senior forward averaged 15.8 points and 7.2 rebounds per game, so if it is 6.5 or lower, we should bet on the over for his rebounds. Check the YouWager.lv Sportsbook on Saturday morning to see the different player-prop bets for the game.
We think this game will have a low number of points, like SDSU's first-round game against Charleston. If Furman wants to stay in this game, they need to defend and hope SDSU misses some open shots. Furman can score, but it will be very hard for them to do so because of how well the Aztecs defend.
We think this game will be close the whole time, so our experts think the best way to bet on San Diego State vs. Furman is on Furman +5.5 (-110 at YouWager.lv Sportsbook) and the under for the total score.
How to use YouWager.lv to bet on this March Madness game
YouWager.lv makes it easy to bet on our predictions for March Madness. Just click on the "NCAA" and scroll through the list of NCAA Tournament games.
It's easy, and all new members who join here will get the latest bonus offer. There is no discount code, so it is easy to start.
Click here to join YouWager.lv today and fade or follow your favorite experts' picks for the San Diego State vs. Furman game.
San Diego State vs. Furman Betting Odds & Lines Offered by YouWager.lv
We have already talked about what we think will happen between San Diego State and Furman today. Here are the most recent YouWager.lv Sportsbook odds, lines, and spreads:
Point Spread:
San Diego -5.5 (-110)
Furman +5.5 (-110)
Money Line:
San Diego (-235)
Furman (+195)
Game Total (over/under):
Over 138 (-110)
Under 138 (-110)
Sign up for a YouWager.lv account through this link and bet on San Diego State vs. Furman with a 100% crypto welcome bonus.