Mizzou vs. Princeton Betting Odds, Prediction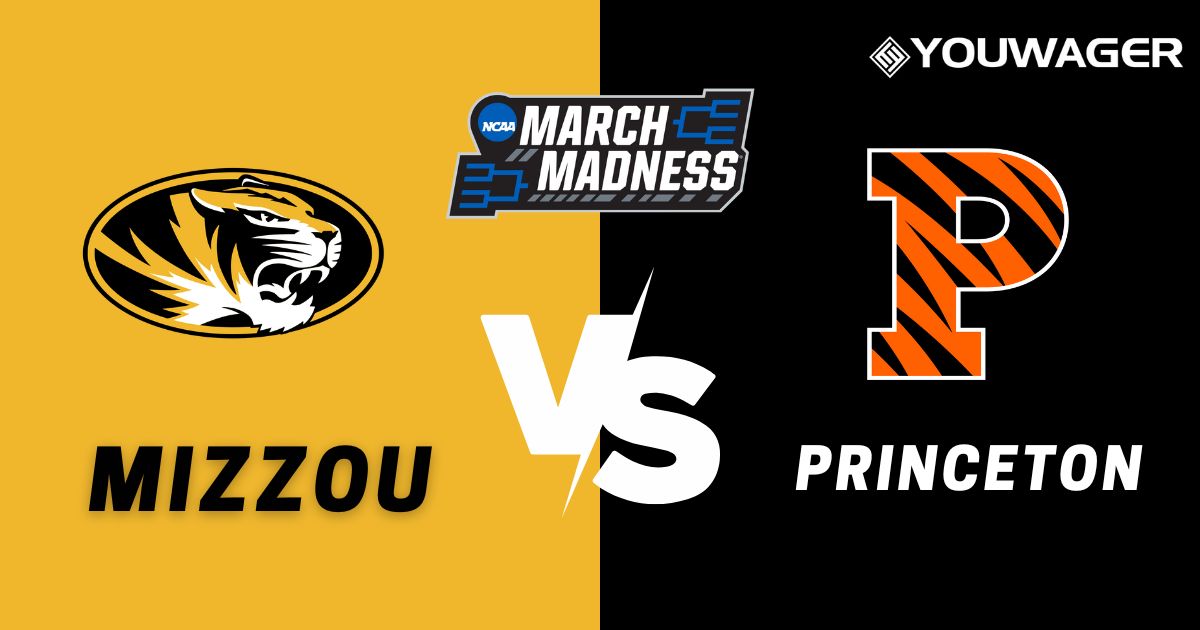 Here are the Mizzou vs. Princeton betting odds and our prediction for this particular March Madness second-round game.
With a stunning victory over second-seeded Arizona, 15th-seeded Princeton is hoping to become this year's Cinderella by making it to the Sweet 16. It won't be simple for them to build off their first-round success with a victory over the Missouri Tigers (-6.5) in the Round of 32, as head coach Dennis Gates is eager to return his team to the second weekend for the first time since 2009.
Princeton managed to overcome a double-digit deficit despite trailing by 12 points with less than 12 minutes left in the second half by dominating in the closing minutes of regulation. In the last 4:43 of regulation, Princeton held Arizona scoreless and was able to defend against Wildcat big men Azoulas Tubelis and Oumar Ballo, finally getting the upset victory.
Moreover, Missouri's perimeter defense limited the Aggies to 16.7 percent three-point shooting while Utah State was eaten up by its pressure-heavy defense, which forced 15 turnovers (four-of-24). After trailing by four points at the half, Utah State eventually took a two-point lead in the second half, but it was never able to go ahead of the Tigers' stifling defense, and it lost 76-65.
Here is all the information you need to wager on Missouri vs. Princeton in the second round of the NCAA Tournament bracket, including the most recent odds, betting trends, and our pick for this March Madness Round of 32 matchup.
Mizzou vs. Princeton odds
Here are the Mizzou vs. Princeton odds:
According to YouWager.lv Sportsbook, Missouri is presently a 6.5-point favorite with a 150.5-point over/under. Missouri's implied win probability at the moneyline price of -280 is 73.33 percent, while Princeton's indicated win probability at the moneyline price of +230 is 30.30 percent.
Spread:
Princeton +6.5 (-110)
Missouri -6.5 (-110)
Moneyline:
Princeton +230
Missouri -280
Over/Under:
Over 150.5  (-110)
Under 150.5  (-110)

Missouri vs. Princeton: Betting Trends to Watch
This season, Missouri has loved playing on neutral grounds, going 4-1 ATS in those games heading into Saturday's meeting
Despite not playing the underdog role frequently, Princeton has excelled in it, winning five of its last six games in that capacity
The over has gone 13-6 in games where the Tigers have closed as favorites, so gamblers are salivating at Missouri being listed as the favorite
Missouri's key figures
With three players (Kobe Brown, D'Moi Hodge, and DeAndre Gholston) averaging double figures, Missouri has a highly balanced scoring attack. Gates' squad typically plays five-out with either 6-8 Kobe Brown or 6-6 Noah Carter holding the five slot, but they are by no means the biggest team. When Missouri wants to play big, 6-10 junior Mohamed Diarra will occasionally play the five. Against a strong Princeton front-court, Diarra may be required to play more minutes than usual.
 Princeton key figures
Tosan Evbuomwan, a 6-8 forward for Princeton, is the team's most-used player and the team's leader. While he is on the floor, he attempts a shot on 24.8 percent of possessions. Associated front-court piece The squad's second-most used player is Keeshawn Kellman, and guards Matt Allocco and Blake Peters are the greatest three-point shooters on the team in terms of percentage.
Tosan Evbuomwan vs. Kobe Brown is the best individual matchup
Brown will be entrusted with controlling Evbuomwan on the defensive end because Mizzou will probably start off playing small. Princeton's first-round shock was led by Evbuomwan, who scored 15 points and connected on 7 of his 15 field goal attempts.
He is a legitimate passing threat and can play out on the perimeter as well. Evbuomwan should not be able to intimidate Brown, but foul trouble could be a problem. On the other side of the court, Brown's ability to make three-pointers will have Evbuomwan guard him out to the perimeter, which might create room for Missouri's guards to make back cuts and score.
Missouri vs. Princeton key stat
The defenses are polar opposites, with Missouri having the fifth-highest turnover rate in the country (24.3%) and Princeton having the 348th-highest turnover rate (14.6 percent).
DeCourcy (Alabama), Bender (Kansas), Fagan (Marquette), and Pohnl are the experts' picks (Kansas)
Prediction for Mizzou vs. Princeton
Missouri should be able to defeat Princeton by a margin of many possessions because to its offense's ability to pick up the tempo and spread the floor with its abundance of shooters. But, Missouri is a difficult team to play on short notice, and their ninth-ranked offense hits enough shots to move to the second weekend. Princeton's comeback victory over Arizona demonstrated that it can defeat anyone in the nation.
Princeton scores 68; Missouri scores 78. The game finishes UNDER the total, and Missouri (-6.5) covers the spread (150.5).
Thank you for checking out ou Mizzou vs. Princeton betting odds and prediction article, we wish you the best of luck with your action on this particular game.