XFL Week 2 Odds And Preview For All 4 Games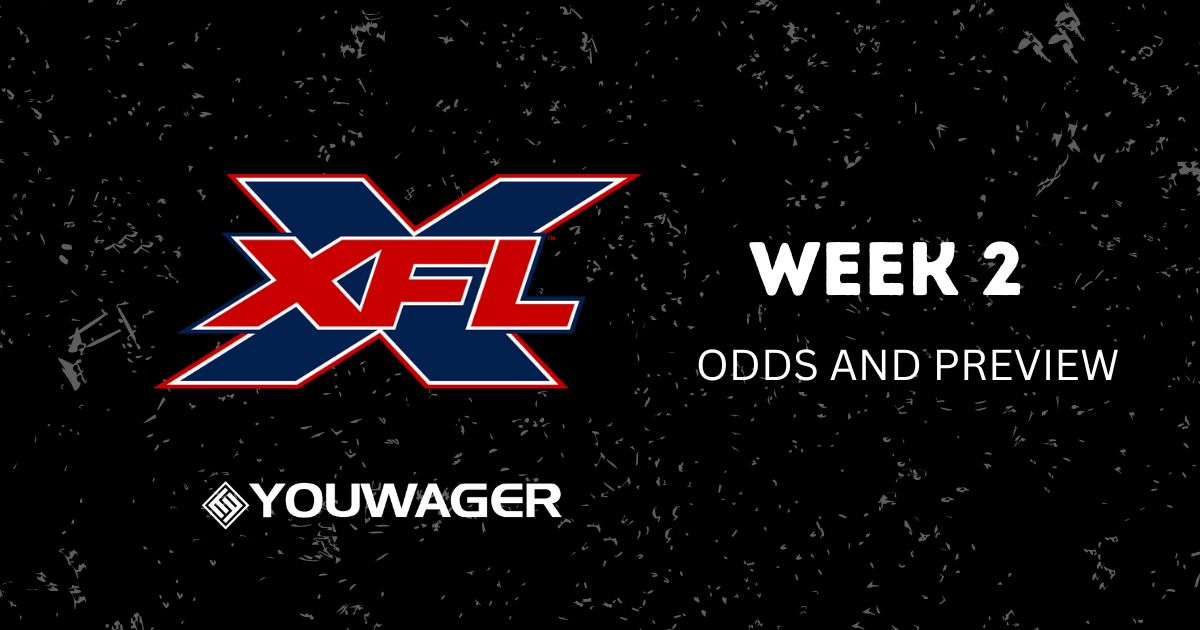 XFL Week 2 Preview: Can the scoring keep going up in the second week?
XFL Week 2: The totals for Sunday's games are going up
As far as excitement went, the 2023 season of the XFL got off to a great start. All but one of the games came down to the last few seconds, and the game between the St. Louis Battlehawks and the San Antonio Brahmas ended with an epic comeback. Three of the four games also had more points than the totals shown, which is why some of the XFL Week 2 odds totals have gone up. This Thursday is the start of Week 2, and the league is hoping to keep things exciting.
Learn how to bet on sports with this easy guide.
XFL Betting Report For Week 1
People who bet on the top three XFL teams at the start of the 2023 season did very well. All three teams won, and two of them beat the point spread. The Arlington Renegades were the only favorite that didn't cover. As a 3.5-point favorite, the team beat Vegas by just two points. It also had to come back in the second half to win.
In a game against the Brahmas, the Battlehawks scored 15 points in the last few minutes to win. People who bet on St. Louis as a 2.5-point favorite got a great backdoor cover. But it was a bad beat for those who bet on the Brahmas. Some books also changed the line to give St. Louis three points, so this would have been a push.
Three of the four games had totals that were over 40 points. In fact, the Roughnecks almost covered the total of 36.5 points on their own. They scored 33 points, which was the most in Week 1, and won by 21 points, which was a lot more than their 3.5-point cover.
XFL Week 2 Preview for All Games:
St. Louis Battlehawks (1-0) vs Seattle Sea Dragons (0-1)
Date & Time: Thursday, Feb. 23 (8:00 p.m. ET)
Location: Lumen Field, Seattle, WA
Both the Battlehawks and the Sea Dragons have a shorter week than usual. On Sunday, the two teams played, and St. Louis won and Seattle lost. This is Seattle's first game at home. The XFL Week 2 odds show that St. Louis will still be on the road and will be the underdog this time. Seattle will be cold, with a temperature of 31 degrees Fahrenheit. Last week, each team scored 18 points, so the total is set at 36.5.
XFL Week 2 Odds for this game at YouWager.lv:
St. Louis Battlehawks +3
Seattle Sea Dragons -3
36 Over/Under
D.C. Defenders (1-0) vs Vegas Vipers (0-1)
Date & Time:
Location: Cashman Field, Las Vegas, NV
In their home opener against the Defenders, the Vipers will try to make it 2-0 against the spread, this time as a favorite (-3.0) Vegas lost to the Renegades because they made a lot of mistakes, but they scored late to make up for it. In the fourth quarter, they made Seattle's Ben DiNucci lose the ball, which sealed their win. The total is also set at 36.5 because the defenses of these teams might make it hard to score again.
XFL Week 2 Odds for this game at YouWager.lv:
D.C. Defenders +3
Las Vegas Vipers -3
36.5 Over/Under
Sign up for a YouWager.lv account, make your first crypto deposit, and get a 100% sign-up bonus, click below:

San Antonio Brahmas (1-0) vs Orlando Guardians (0-1)
Date & Time:
Location: Camping World Stadium, Orlando, FL
The Brahmas want to get over the shock of their loss by beating the Guardians. Orlando is playing at home for the first time, so San Antonio is favored (-3.0) to win as a visitor. The Guardians took him out of the game because he threw an expensive interception. But when he was taken out of the game, Quinten Dormady threw two more passes as Orlando got blown out. The total is set at 38 points because Orlando gave up 33 points last week.
XFL Week 2 Odds for this game at YouWager.lv:
San Antonio Brahmas -3
Orlando Guardians +3
Over/Under 38.5
Arlington Renegades (1-0) vs Houston Roughnecks (1-0)
Date & Time:
Location: TDECU Stadium, Houston, TX
The XFL Week 2 odds say that this game between two undefeated Texas teams will have the most points (total of 40). In Week 1, the Renegades won despite getting off to a slow start, and the Roughnecks picked up where they left off in 2020 with a dominating win. The Roughnecks made the Guardians' lives hard by getting three interceptions and seven sacks, with linebacker Trent Harris leading the way with four. So, at four points, Houston is the favorite this week.
XFL Week 2 Odds for this game at YouWager.lv:
Arlington Renegades +4.5
Houston Roughnecks -4.5
40 Over/Under
Thank you for checking out our article with the XFL Week 2 odds and game previews, best luck with your action on these games!