Todd Monken, New Ravens OC: Not Worried About Lamar Jackson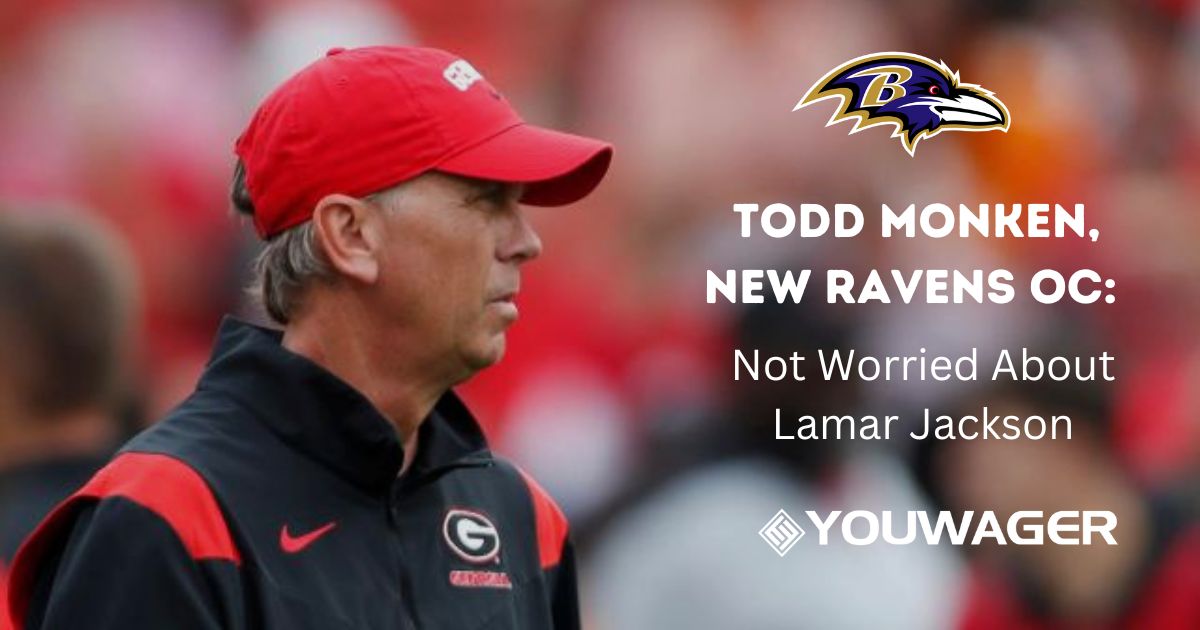 Todd Monken, the new offensive coordinator for the Baltimore Ravens, said that quarterback Lamar Jackson has an "elite skill set" and that he thinks Jackson is underrated as a passer at his first news conference on Tuesday.
It's just not clear when Monken will be able to tell Jackson that in person.
If Jackson gets the franchise tag, it's possible that he won't show up to any of the spring workouts or training camp. The Ravens are likely to use the tag on Jackson to keep him from becoming a free agent if they can't work out a new deal with him in the next two weeks. Tuesday was the first day you could use the tag, and March 7 is the last.
Todd Monken Not Worried
Todd Monken didn't seem worried that Lamar Jackson might not show up until a week before the start of the regular season, which wouldn't give him much time to learn the new offensive system.
Monken said, "Sure, he'll be behind, but it's still just football." "We sometimes make way too much of this. We'll play based on what he knows."
Monken added that if Jackson holds out for a long time, it will be hardest to get along with him.
"I mean, any player gets better at any system the more time you spend with them. That's more connection, and it's a part of it. And it's important for the quarterback, coordinator, play-caller, and position coach to feel comfortable with and trust each other. This has grown over time."
Lamar Wants Guaranteed Money
Jackson hasn't been able to get a new contract for more than two years. Most likely, a new deal won't happen until one side changes its mind about guaranteed contracts. Jackson wants a fully guaranteed contract like the one Deshaun Watson got last year, but sources say that Baltimore doesn't see the Watson deal as a pattern and instead sees it as an outlier.
Monken was asked how Jackson's long-term availability affected his decision to leave Georgia, where he won back-to-back national titles, and come to Baltimore.
"Of course, if you're a player on a team you're joining, you're interested in how the team is going to look," Monken said. "But in the end, I want to be somewhere with structure, organization, and great defense all the way through. And everyone I talked to told me that I wanted to be a Baltimore Raven and be a part of that team going forward."
Todd Monken Taking Over Roman
Greg Roman left the Ravens on January 19 because the offense was still struggling, especially in the passing game. Monken will take over for Roman.
In the passing game, the Ravens were ranked 27th, 32nd, 13th, and 28th during Roman's four years as a play-caller.
Jackson hasn't improved as a passer over the past two years. He has thrown 33 touchdown passes and 20 interceptions. Still, Monken said that he has never worked with a QB like Jackson.
"He's got an elite skill set," Monken said. "I think he's not given enough credit for how well he can make plays and throw the ball down the field. I'm no different than you. I've seen what you guys watch, and it's pretty amazing."
Still, no one knows when Monken will start working with Jackson. If Jackson doesn't sign his franchise tag tender, he's not under contract and can't be fined if he misses all of the workouts and practices for the next six months.
Monken was hired a week ago, but he hasn't talked to Jackson or any other players yet.
Monken said, "I'm just trying to figure out where I'm going when I drive to the building."