Suns expecting newly acquired Kevin Durant to provide 'jolt'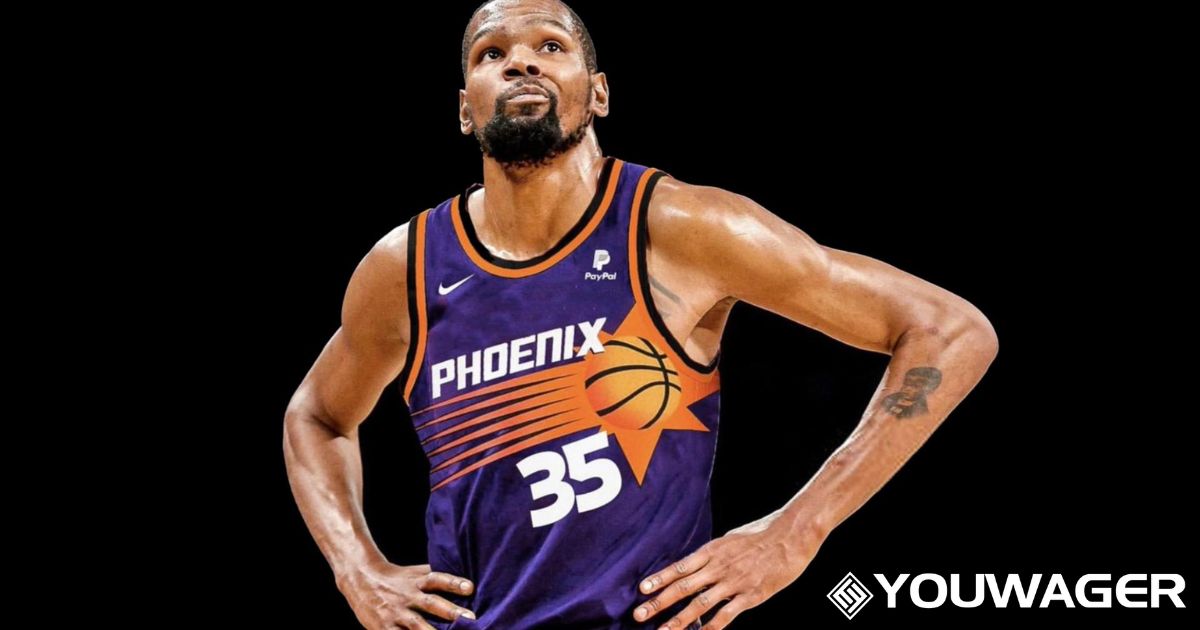 Kevin Durant hasn't even played a game for the Phoenix Suns yet, but just having him on the team is already helping them.
After Durant and T.J. Warren were traded from the Nets to the Suns for Mikal Bridges, Cam Johnson, and a bunch of first- and second-round draft picks, players and coaches talked about how much they think Durant will help the team in many ways.
After Thursday night's 116-107 loss to the Atlanta Hawks, Suns coach Monty Williams said, "I think it's more than a lift." "If that makes sense, I think it's a shock.
Because of who he is as a player and how much he loves the game. I think the guys are going to see something about him and how much he loves playing basketball that they may not have seen before.
Chris Paul on Kevin Durant
"I think he'd hoop all the time if he could, and I think that's who we are. So, to have someone like that in your gym who is also incredibly talented and one of the best to ever do it, I think it's going to do more than just add to what we do; I think it's going to lift us up and give us a little bit of a kick." Chris Paul mentioned.
Paul said he has known Durant since he was a camper at Five Star Basketball Camp years ago. He said he is "excited" to play with the future Hall of Famer.
"What did KD say in that one interview? He said what? You all know him, "Paul said. "So you add him to the list of people the Harlem Globetrotters always play against? Washington Generals for example.
When you add him to them, they'll be nice. Do you get what I'm
saying? KD is different, man. He is different. He is the way he is because of this. He has done it for a long time in this league. We got to see it for ourselves."
DeAndre Ayton on KD
With Durant on board, DeAndre Ayton, the center for the Suns, made it clear where he thinks his team can get by the end of the season.
When asked if he thought the Suns had everything they needed to win a championship this year, Ayton said, "Damn right." "You damn right. I feel that way.
We've lost a few games, especially at the beginning of the season, so we know what it's like. I think we've been punched in the face so many times that we've learned to adapt and accept it.
This has helped build our confidence to the point where we've been in situations where a team threw everything at us to stop us, even though we didn't have the right pieces on the court.
Knowing what these teams can throw at us, we're ready for it, man, and it's going to be fun because there are so many pieces, golly. Because it's about time, it's both trouble and fun. We really have the power, and you can feel it."
Learn how to bet on sports with this easy guide and then place a bet on Kevin Durant and the Phoenix Suns by clicking below:

Kevin Durant, The Mentor
Paul is sure that having Durant on the team will help the young Suns players who are still learning the game a lot.
Paul said, "It's one of the best players who has ever played the game." "Just to see how he plays the game. His nickname is "Easy Money," and he seems like the kind of person who loves the game a lot.
I think that's what brought Book and I closer together, since he loved to hoop so much. And KD loves to shoot hoops. So I'm looking forward to building this team."
Williams is also sure that Durant will find a rhythm quickly with Paul and Devin Booker, which will help the rest of the team get used to playing with the 34-year-old All-Star.
Williams said, "We had a chance to be really good." "We need to find a rhythm and figure out how to play together. Kevin can play with anyone, though. He can find a way to play for any team in the league. Same with Book and Chris Paul, so it's up to us to figure out who plays around them, where DeAndre Ayton fits, and everything else. But we have time for that. We'll figure out all of that as we go."
Williams and a few other Suns players talked about how Thursday's trade made everyone in the locker room feel sad.
"You have to deal with the human side of it all," Williams said before the game. "It was hard to talk to those guys all day. I got to see them before they left, which made me feel sad. Those two are very important to me. They are like my real family."
With Durant at the center of everything, the Suns will have to build a new part of their team. Players and coaches are looking forward to the challenge.
Paul said that he had already talked to Durant and that he is excited to finally play with him. Even though Durant is still out with a sprained MCL in his right knee, which happened on January 8, the Suns, like the Nets before them, are still hopeful that he will be back soon.
So, Does Durant Like the Deal?
Paul laughed and said, "I mean, he's not mad." "But it's a lot for him as well. He has been in Brooklyn for some time. I think that's the thing, man. I get that it's exciting, but there's a lot more to it than that."
"Guys are switching teams, but they still have to take care of their families. The homes of Mikal Bridges and Cam Johnson are in Phoenix. KD has made a big name for himself in Brooklyn, New York, by building a whole business. So there's a lot to take care of. So I think everyone has to figure out what's going on. It just took place."
Thank you for checking out this article on Kevin Durant joining the Phoenix Suns!