LeBron James Breaks Record, Becomes All-Time Scorer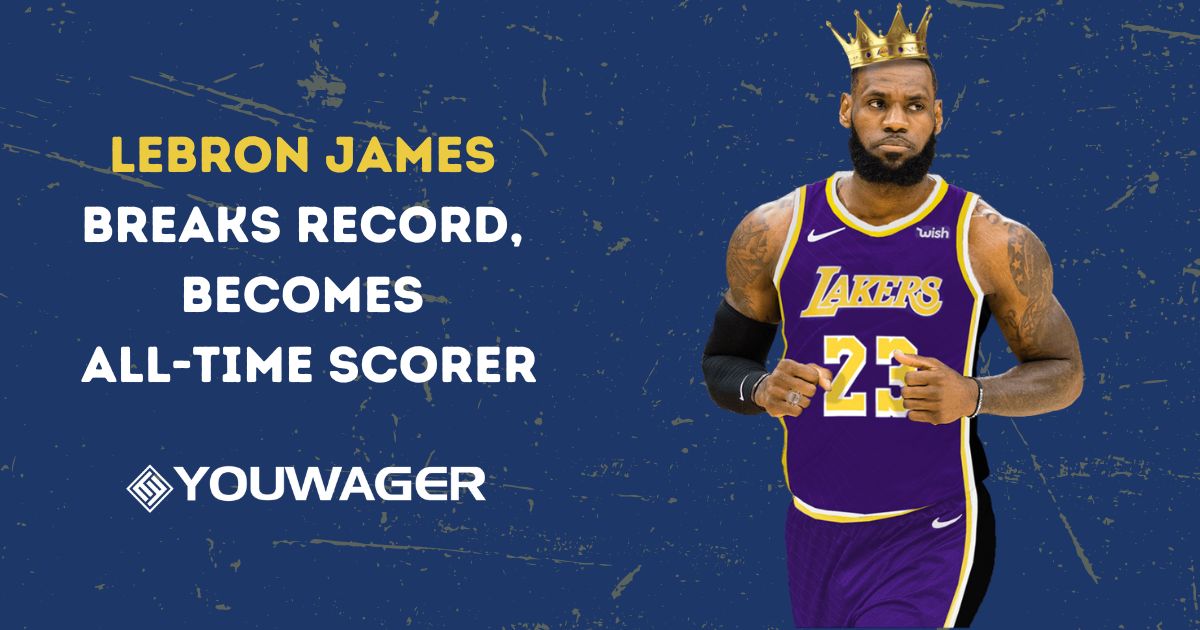 LeBron James Breaks Record by passing Kareem Abdul-Jabbar as the leading scorer in the history of the league.
With 10.9 seconds left in the third quarter of a 133-130 setback to the Oklahoma City Thunder, James made a fadeaway jumper that put him on top of a mountain that Kareem Abdul-Jabbar had stood on for more than 38 years. Abdul-Jabbar had 38,387 career points.
James came into the game with 38,352 points, which meant he needed 36 more to pass Abdul-Jabbar. He finished the night with 38 points, 7 rebounds, 3 assists, and 3 steals. He made 13 of 20 shots from the field and 4 of 6 from three-point range.
Read this how to bet on sports guide before getting action on your favorite NBA team.
LeBron James Breaks Record: Bronny Shows Dad Record-Breaking Moment Video
LeBron James Breaks Record: Bronny Congratulates His Dad.
LeBron James was able to relive his immortal moment through his son's eyes long after he made a 14-foot fadeaway jumper that put him alone at the top of the NBA's all-time scoring list and caused him to celebrate by raising his arms high toward the ceiling of Crypto.com Arena.
As the star of the Los Angeles Lakers iced his joints late on Tuesday night, Bronny James stepped over and showed his dad a video he had taken of the moment James broke Kareem Abdul-career Jabbar's scoring record.
"Whoa, that's hard!" James told Bronny as he watched his son's phone to see the record-setting basket. "You've saved that? Send me that."
LeBron James Breaks Record: An Emotional Event for Bron
LeBron James Breaks Record: Bron Gets Emotional.
James broke down in tears as the game stopped to celebrate a record that many people thought would never be broken.
"Every night, I write "The Man in the Arena" by Theodore Roosevelt on my shoe," James said afterward. "Tonight, when that shot went in and the crowd cheered, I felt like I was sitting on top of the arena. I don't know if I could feel that way again, unless it was a game-winning shot in the Finals.
"Suddenly, everything stopped. It gave me a chance to take it all in and look around at my family, fans, and friends. It was kind of neat. I probably can count on one hand the number of times I've cried, whether I was happy or sad. So that was one of those times when I got a little emotional. It was tears that said, I can't believe this is happening."
As the crowd chanted "MVP," photographers quickly surrounded James on the court, and highlights of his 20-year career were shown on the videoboard.

LeBron James Breaks Record: Adam Silver Congratulates Bron
LeBron James Breaks Record: The Commissioner Pays His Respects.
The game was stopped for about 10 minutes so James could hug his wife, mother, and three children, as well as take part in a short ceremony with NBA commissioner Adam Silver and Abdul-Jabbar, who was sitting near the Lakers bench and watching the game from the baseline.
"A record that has stood for almost 40 years." People thought it would never be broken. LeBron, you have more points than anyone else in NBA history. Congratulations." Silver said.
LeBron James Breaks Record: Abdul-Jabbar Passes the Torch
LeBron James Breaks Record: Bye Abdul-Jabbar, Welcome Bron
Kareem Abdul-Jabbar held the ball in the air and then gave it to James. This was the symbolic passing of the torch. They took pictures with Silver and then of each other.
"I just want to thank the Laker fans for their support. You guys are like no other, "James told the fans who came out in droves to see something that only happens once every generation. "It's very humbling to be in the same room as a legend and great like Kareem. Give The Captain a standing ovation, please."
James then thanked his family and everyone who had helped him, including Silver and David Stern, who had been the NBA commissioner.
Bron Gives Thanks
LeBron James Breaks Record: Bron Gives Crucial Thanks.
"Thank you so much for letting me be a part of something I've always wanted to do." LeBron said.
James might say he's not a scorer, but the Lakers star just shot a big hole in his own argument.
Adding the career scoring record to his list of accomplishments, which already includes four championships, is another feather in his cap in the debate over who is the best basketball player of all time. Many people think that James and Michael Jordan are tied for first place.
When asked what this record does for his case as the GOAT, James said, "I think it's great barbershop talk." "It will always and always happen. If I were the general manager or whatever of a new team and I had the first pick, I would take me." LeBron said.
And he continued: "But that's just me because I believe in myself and what I bring to the table. I'm a guy who has been able to change his game over the course of 20 years and can play any position in this league and do well at any position. I can play from one to five. I've had the most assists in the league. I've been able to do what this game wanted me to do and change my game at the same time."
A Great, Positive Atmosphere
LeBron James Breaks Record: The Atmosphere Was Phenomenal.
The Lakers gave press credentials to more than 200 people, which is a number that is usually seen for a late-round playoff game. Some of James' high school teammates were there along with his family and friends from Akron, Ohio.
James didn't disappoint them. In the first half, he scored 20 points and showed off his offensive skills, which still shine brightly after 20 years in the NBA. In the third quarter, he scored 16 points and broke the record with one of his signature fadeaways.
The atmosphere was "electric," said Lakers coach Darvin Ham. Each point James scored made the crowd cheer louder, making it feel like a playoff game.
A lot of famous people, like Denzel Washington, Jay-Z, Bad Bunny, LL Cool J, Usher, Andy Garcia, and many more, were inside the building to see history being made.
Magic Johnson, James Worthy, and Bob McAdoo, all of whom played for the Lakers, were there, as was Dwyane Wade, who won two NBA titles with James while playing for the Miami Heat.
Always Part of the Spotlight
LeBron James Breaks Record: Bron Always Shinning.
Since he was a teenager, James's basketball life has been in the national spotlight. He played in high school games that were broadcast on TV, skipped college to be the No. 1 pick by the Cleveland Cavaliers in 2003, and made his first big free agency decision at a made-for-TV event, all while leading his teams to 10 appearances in the NBA Finals.
Anthony Davis, who plays for the Lakers, said, "He put a lot of blood, sweat, and tears into this game, so it's an honor to see it live."
This Lakers season has been up and down, with a 2-10 record to start the year and a lot of setbacks that have caused Ham to change the starting lineup 27 times, which is the most in the league, but James's consistent good play has led to a lot of praise from players in other teams' starting lineups.
Earlier Than Abdul-Jabbar
LeBron James Breaks Record: Bron Achieved Record Earlier Than Abdul-Jabbar.
Abdul-Jabbar only made one 3-pointer in his 20-year career. He averaged 24.6 points per season and scored the most points ever in 1,560 games. James has grown with the league. He is No. 9 on the list of all-time three-pointers and averages 27.2 points per season. In his 1,410th game, he caught the legendary Lakers big man.
James said, "This ride has been great."
James is the oldest player to ever average 30 points per game. He is also the youngest player in league history to reach every 1,000-point mark from 1,000 to 38,000.
This season, James is averaging 30.2 points per game, making him the oldest player to ever do so.
Thank you for checking out our LeBron James Breaks Record article!