2023 NFL Mock Draft: First 10 Projected Picks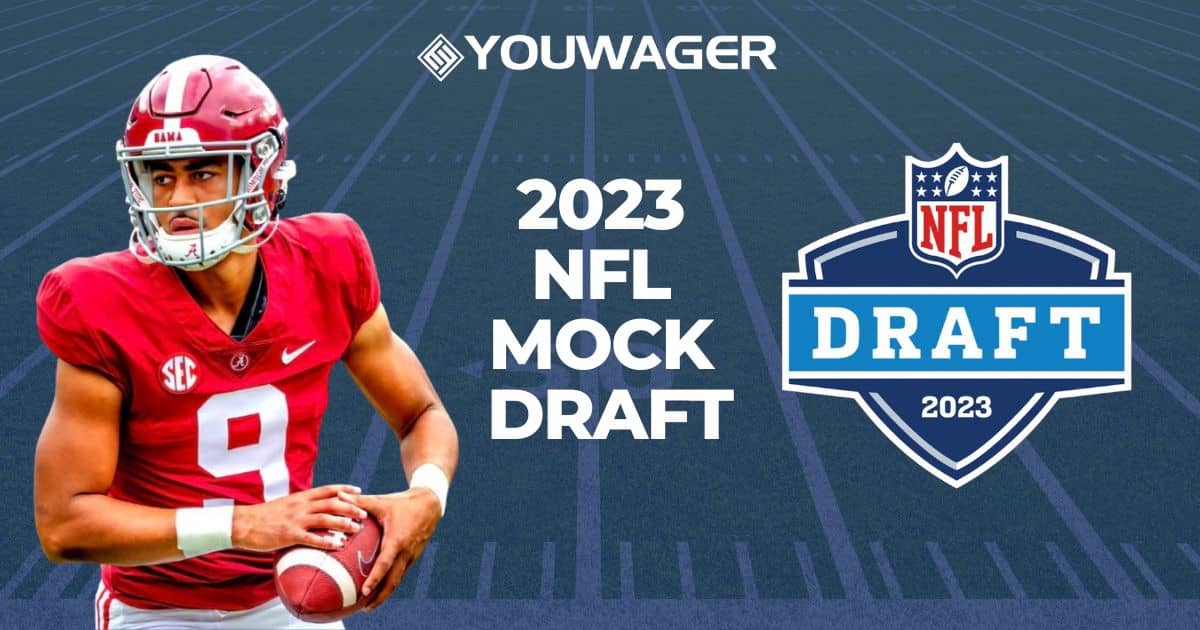 Here is our review of the first 10 projected picks for the 2023 NFL Mock Draft.
This is still a very early forecast. We still have the scouting combine in a month, as well as pro-day workouts and team interviews for prospects. A lot of things will change.
The full draft order has yet to be determined because the outcome of Super Bowl LVII between the Kansas City Chiefs and the Philadelphia Eagles will determine the final two spots in each round. Remember that the Miami Dolphins were stripped of their first-round pick due to tampering violations, so there are only 63 selections in the first two rounds.
2023 NFL Mock Draft: Round 1
All of that being said, here is our 2023 NFL Mock Draft for round 1, starting with the first five projected picks.
2023 NFL Mock Draft: Projected trade, Colts go for a QB
Multiple teams in the top 10 could try to jump to No. 1 overall to land their preferred quarterback, and the Bears, who already have Justin Fields, should be open to offers.
In this scenario, the Colts take the risk, sending the Bears the Nos. 4 and 35 picks, a fourth-rounder, and a 2024 third-rounder in exchange for the Nos. 4 and 35 picks.
Indy can get its quarterback, and Chicago should still be able to land a top defender while acquiring a slew of draft assets, including a valuable second-round pick.
2023 NFL Mock Draft: First 5
First in our 2023 NFL Mock Draft, the first five positions.
2023 NFL Mock Draft: 1. Indianapolis Colts, Bryce Young, QB, Alabama
2023 NFL Mock Draft: Indianapolis Colts picks Bryce Young, QB, Alabama (trade with CHI).
The Colts make an aggressive move to secure the franchise's quarterback future by trading up to No. 1 overall to select Young.
Yes, Young will be one of the smallest quarterbacks (6-foot, 194 pounds) ever drafted in the first round, but he's also the best – and most pro-ready – passer in this class. Over the last two seasons, he has 79 touchdowns and only 12 interceptions.
Young is a pocket master with poise, vision, agility, and a sixth sense reminiscent of Joe Burrow. In fact, if Young were a few inches taller, Burrow would be my stand-in. The Colts are in true rebuilding mode, and Young could be the first piece to fall into place.
2023 NFL Mock Draft: 2. Houston Texans, Will Levis, QB, Kentucky
2023 NFL Mock Draft: Texans choose Will Levis with the second overall pick.
Every team looking for a quarterback in this draft should consider jumping the Texans to secure their top-ranked passer, and it wouldn't be surprising if Houston moved up a spot to block others.
While Levis is one of the most divisive players in this class due to his interceptions (23 in the last two years), he also has the best arm talent in the class, as well as excellent pocket mobility and toughness.
He wasn't surrounded by elite talent at Kentucky, and his development was hampered by a change in offensive coordinator.
But the Penn State transfer must demonstrate to teams in workouts and interviews that his decision-making can be reworked. Levis is a top-10 talent based solely on his traits. It is up to the Texans to develop that talent.
One thing to note from the Senior Bowl: an insider believes Houston will not draft a quarterback. That seems difficult to believe right now, given the quarterback situation.
This season, the Texans were last in the NFL in terms of QBR (26.0). However, with new coach DeMeco Ryans' background in defense, it's something to keep in mind.
2023 NFL Mock Draft: 3. Arizona Cardinals, Will Anderson Jr, DE, Alabama
2023 NFL Mock Draft: With the third overall pick, the Cardinals choose DE Will Anderson.
The Cardinals are in an enviable position, as new general manager Monti Ossenfort has the option of sitting tight and drafting the best remaining prospect here.
He's almost certainly going to get a shot at Anderson or Georgia's Jalen Carter. As Ossenfort attempts to rebuild a roster that is heavy on versatile defenders and small receivers, he may begin with the most important position on defense.
Anderson dominated at Alabama for three years, racking up 34.5 sacks, 184 pressures, and 66 tackles for loss. His first-step quickness and relentless motor are reminiscent of Von Miller as a freshman out of Texas A&M in 2011.
Anderson can play defensive end or standup rusher, and he would set the tone for a defense in desperate need of a personality.
2023 NFL Mock Draft: 4. Chicago Bears, Jalen Carter, DT, Georgia
2023 NFL Mock Draft: With the fourth overall pick, the Bears are taking DT Jalen Carter.
In this scenario, the Bears traded back but are still in a position to select the class's top prospect. The 3-technique pass-rusher is critical in Matt Eberflus' defense, and Carter is a Fletcher Cox-like difference-maker there.
He was in a rotation in 2021 and had an injury-plagued 2022, so he didn't put up impressive stats (just six career sacks). However, when it came to the historically talented Georgia defense over the last two years, she was the most talented of the bunch.
Carter's burst off the snap has the potential to be spectacular, and he already demonstrates a command of leverage, space, and timing when executing spin and rip moves. He should enter the NFL as a high-end starter at the position that Eberflus' defense is built around.
2023 NFL Mock Draft: 5. Seattle Seahawks, Tyree Wilson, DE, Texas Tech
2023 NFL Mock Draft: With the fifth overall pick, the Seahawks choose DE Tyree Wilson.
Seattle is in a good position for teams looking to trade up and get a quarterback, but general manager John Schneider isn't forced to do so.
He can revamp his defensive line with two first-round picks, just as he did the offensive line with Charles Cross and Abraham Lucas last year. Poona Ford is a free agent, and Uchenna Nwosu's contract expires in a year.
Wilson had seven sacks in 2022, but scouts are most interested in his length, power, and speed. He stands 6-foot-6 and weighs 275 pounds, and he uses his length to create separation and counter around, over, and under. Wilson isn't on the same level as Will Anderson Jr., but he's close.
2023 NFL Mock Draft: 6 to 10
Now in our 2023 NFL Mock Draft, let's check out positions 6 to 10.
6. Detroit Lions: Devon Witherspoon, CB, Illinois
2023 NFL Mock Draft: With the sixth overall pick, the Lions choose CB Devon Witherspoon.
The Lions get the top-ranked cornerback in the draft, and Witherspoon is exactly what the team needs as a physical, sticky cover man with instincts and ball skills.
He's only 6-foot-1 and 180 pounds, but he plays much bigger than that and is the best open-field tackler among this group of corners. In addition, he only allowed two completions of more than 20 yards all season, in addition to his three interceptions.
The Lions are another team that could make a trade with a quarterback-needy team, but the risk there is falling too far back and missing out on the class's top cornerback after allowing a league-high 6.2 yards per play in 2022.
If the front office and coaching staff agree that Jared Goff should remain as the starting quarterback, this is the best move for the team.
7. Las Vegas Raiders: Peter Skoronski, OT/G, Northwestern
2023 NFL Mock Draft: With the seventh overall pick, the Raiders chose Peter Skoronski.
The retirement of Tom Brady may have thrown a wrench in the Raiders' plans, but many scouts and decision-makers in the league believe the Raiders will not draft a quarterback here.
"With the way they struggled this year, there is no way Josh [McDaniels] is trusting a rookie quarterback," said one AFC area scout at the Senior Bowl.
McDaniels appears to be more inclined to pursue free agent Jimmy Garoppolo or re-sign Jarrett Stidham.
The Raiders must upgrade their offensive line regardless of who plays quarterback. Skoronski is the most NFL-ready player in the 2023 class, though many expect him to be a guard at the next level due to his shorter arm length.
He's physical, especially in the run game, and has the mobility to play at the next level. The Raiders could move him to left guard to form a strong blindside for the next quarterback.
8. Atlanta Falcons: Myles Murphy, DE, Clemson
2023 NFL Mock Draft: With the eighth overall pick, the Falcons choose Myles Murphy.
With the board looking this good, the Falcons might be tempted by quarterback C.J. Stroud, but rookie Desmond Ridder showed enough promise in 2022 to be given another shot as the starter.
Instead, the Falcons must address the defense and begin to build a unit capable of competing across the board. Murphy, who stands 6-foot-5 and weighs 275 pounds, is expected to rank among the top defensive ends in recent history at the combine.
The junior could run the 40-yard dash in the "high-4.5 second" range. Scouts compared Murphy's physical traits and potential to Travon Walker's, so there's a lot of hope for him. Murphy finished 2022 with 6.5 sacks and 12 tackles for loss.
9. Carolina Panthers: CJ Stroud, QB, Ohio State
2023 NFL Mock Draft: With the ninth overall pick, the Panthers choose CJ Stroud.
The Panthers will almost certainly try to trade up to get a quarterback, but with Stroud available at No. 9, general manager Scott Fitterer can hold tight and save draft capital.
Re-signing Sam Darnold as a bridge quarterback and drafting Stroud to work with new coach Frank Reich is a wise team-building decision.
The Ohio State quarterback has incredible accuracy to all levels of the field and demonstrated his ability as a runner and mover in the pocket against Georgia in the College Football Playoff semifinals.
Stroud had 85 touchdown passes to 12 interceptions during his college career and finished second in QBR in 2022. (88.9). While Stroud may need some time to adjust to an NFL offense, he possesses the passing ability to become the franchise quarterback this team desperately needs.
10. Philadelphia Eagles: Bijan Robinson, RB, Texas
2023 NFL Mock Draft: With the tenth pick, the Eagles choose Bijan Robinson.
The Eagles have few needs on a roster that general manager Howie Roseman has meticulously constructed, and they do not have a lot of draft capital overall, with only two picks on Day 3.
With Miles Sanders set to hit free agency, the Eagles require a true RB1 to complement quarterback Jalen Hurts. Robinson has the potential to be that person. He'd also be a lot cheaper as the No. 10 overall pick than signing Josh Jacobs or Saquon Barkley in free agency – or even franchise-tagging Sanders.
In addition, no team came close to the Eagles' top-ranked expected points added via the run in 2022. (29.5).
Since Barkley left Penn State in 2018, Robinson has been the best running back prospect. He's strong at 6-foot-220 pounds, and he's shown both great open-field speed and the best contact balance in college football.
Scouts said Robinson's best football is still ahead of him, as Texas didn't use him much in the passing game (19 catches in 2022). With over 2,600 yards and 29 touchdowns in the last two years, he is without a doubt the best running back in this draft.
Thank you for checking out our 2023 NFL Mock Draft article, we hope your favorite teams get the talent it requires!