NFL Wildcard Round Predictions For All 6 Games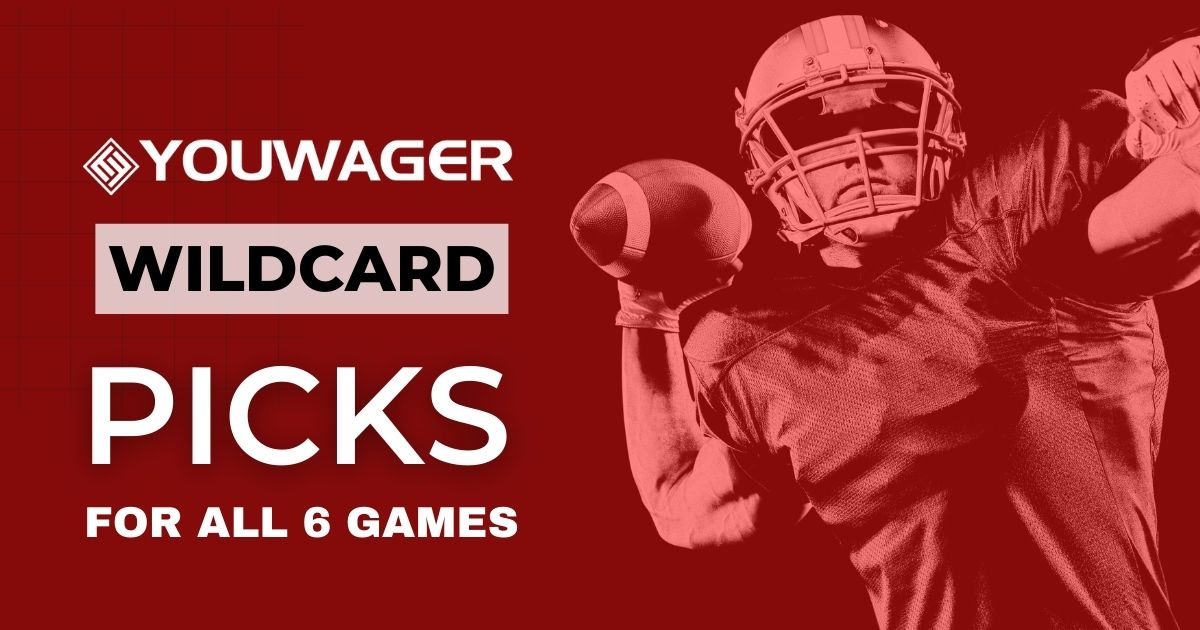 It is important to do thorough research and analysis when placing bets on these NFL Wildcard Round Predictions.
Here are a few tips to keep in mind:
Look at the teams' regular season records and their performances in recent games to get a sense of their current form.
Check the injury reports to see if any key players are likely to be out of the game.
Look at the teams' strengths and weaknesses, including favorites and underdogs, and consider how they match up against each other.
Take into account any potential weather conditions that could impact the game.
Be mindful of any external factors that could influence the game, such as coaching changes or off-field distractions.
Look at the odds and lines provided by different sportsbooks and compare them to make sure you are getting the best value for your bet.
Have a definite betting strategy in place and stick to it, do not make impulsive bets.
It is important to note that betting on sports events carries a risk, and it's important to gamble responsibly.
NFL Wildcard Round Predictions: Seahawks vs 49ers
NFL Wildcard Round Predictions: Seahawks vs 49ers 
Sunday's 16-19 overtime victory over the Los Angeles Rams allowed Seattle to enter the playoffs for the tenth time since 2010.
Geno Smith, the quarterback, passed his way into Seattle's record books despite having a quiet day by his own standards; his 4282 passing yards this season set a franchise high.
With DK Metcalf and Tyler Lockett lined up as his receivers, Smith possesses one of the best arms in the NFL and has talent to work with.
RB Kenneth Walker finished his rookie campaign with 1050 yards, and Seattle has been trying to get him the ball more recently because he seems crucial to their chances of making the playoffs.
The Seattle defense was outstanding against the Rams, and in order to win this game, they will need to play at the same level.
Surprisingly, San Francisco's starters stayed on the field the entire game as they defeated the Rams 13-38.
The 49ers are among the top teams in this year's playoffs thanks to a superb balance between their offense and defense and top-tier players in several areas.
The addition of Christian McCaffrey propelled this club to new heights, and if the 49ers manage to reach Super Bowl 57, the RB2 for the 2022–2023 season will play a significant role.
Seahawks vs 49ers Prediction
Although I can see the Seahawks giving them some trouble, this game has the 49ers victory written all over it because they defeated the Seahawks twice during the regular season and San Francisco has been on a roll lately.

NFL Wildcard Round Predictions: Chargers vs Jaguars
NFL Wildcard Round Predictions: Chargers vs Jaguars
The Chargers narrowly lost to the Broncos 28-31 in week 18, but they won't be too disappointed because they had already clinched the AFC's fifth seed and all of their key players emerged from the game unhurt.
In order to stop the Jaguars' major threats, Los Angeles will need greater output from running back Austin Ekeler than he provided against Denver.
Additionally, their defense will need to apply more pressure to quarterback Trevor Lawrence than it did to Russ Wilson.
For the Los Angeles offense, Ekeler, Justin Herbert at quarterback, Keenan Allen and Mike Williams at wide receiver, and Khalil Mack, Drue Tranquill, and Joey Bosa on defense are the players to watch.
In their game against the Titans in week 18, the Jaguars weren't at their best, but they still prevailed 16-20. Trevor Lawrence and Christian Kirk combined for the Jaguars' lone offensive touchdown of the game as star running back Travis Etienne struggled to contribute in any way on the ground.
All of those offensive threats are still essential to Jacksonville's playoff success, but their defense will be the deciding factor in any triumph. On Saturday, Chargers quarterback Justin Herbert will feel the heat as the Jaguars' defensive line puts opposition quarterbacks under a lot of pressure and their secondary is as excellent as any at recovering an interception.
Chargers vs Jaguars Prediction
This battle has a great sense of balance, and any team might win with one big play. I prefer the Los Angeles defense over Jacksonville's a little, so I'll find the advantage here and predict a Chargers victory.
NFL Wildcard Round Predictions: Dolphins vs Bills
NFL Wildcard Round Predictions: Dolphins vs Bills
The Dolphins experienced a difficult finish to their regular season campaign, but they were able to hold out against the Jets and enter the playoff race at the cost of the Patriots and the Steelers.
Tua Tagovailoa, Miami's starting quarterback, is unquestionably out of the game going into the playoffs because he hasn't yet emerged from the concussion protocol after suffering his third head injury of the season a few weeks ago.
Third-string rookie Skylar Thompson appears destined to stay at quarterback against the Bills as backup Teddy Bridgewater continues to recover from finger and knee injuries.
Despite a few scares, the Bills' 23-35 victory over the Patriots on Sunday was just another day at the office for Josh Allen's Buffalo squad. Three touchdowns were scored by the quarterback, who completed 19 passes for 254 yards and three different receivers.
The first player to score multiple kick return touchdowns in the same game since 2010 was running back Nyheim Hines.
The lone significant injury issue for the Bills going into the Wildcard weekend is Isaiah McKenzie, who is 27 years old and was limited in practice on Wednesday due to a hamstring ailment. This is aside from the recent Damar Hamlin incident.
Dolphins vs Bills Prediction
If the Dolphins had Tua Tagovailoa available, I might be able to envision situations in which they could win this game despite being injured and playing without their starting quarterback. They don't, and unless an unexpected event occurs, their season will finish right here.
NFL Wildcard Round Predictions: Cowboys vs Buccaneers
NFL Wildcard Round Predictions: Cowboys vs Buccaneers
In week 18, the Cowboys lost against the Commanders 6–26, putting on one of their poorest performances of the year. QB Dak Prescott and WR CeeDee Lamb combined for Dallas' lone score.
To lead his club past Tampa Bay in the playoffs, Prescott will need to perform better than his 14 completions out of 37 attempts. Dallas can definitely move the ball more effectively than they did against Washington, and with Tony Pollard and Ezekiel Elliot, they have excellent rushing options to go along with a strong passing attack.
Tom Brady, the renowned quarterback, played less than half of the Buccaneers' 17–30 loss to the Falcons and number one receiver Mike Evans didn't even put on a uniform.
The Buccaneers used the chance to rest a lot of important players. For the game against the Cowboys, all the major stars will be back, and Brady has an undefeated career record versus Dallas, going 7-0 with nearly 2000 yards and 15 touchdowns against them.
Cowboys vs Buccaneers Prediction
Although the Cowboys are a strong team with many ways to injure their opponents, any team captained by Tom Brady cannot be written off, especially when you consider his record against Dallas. Dallas ought to win this one, in my opinion, but who can bet on Brady in the postseason? Absolutely not me.
NFL Wildcard Round Predictions: Giants vs Vikings
NFL Wildcard Round Predictions: Giants vs Vikings
Third-string quarterback Davis Webb received the start for the Giants' loss to the Eagles in week 18 as they opted to rest their best players.
It will be a significantly different Giants offense this week against the Vikings with rookie TE Daniel Bellinger, RB Saquon Barkley, WR Richie James, and WR Daniel Jones all expected to return.
In Sunday's game against the Bears, the Vikings had numerous important players with low snap counts, but that didn't stop them from winning 29-13.
Since Justin Jefferson, a 23-year-old out of LSU who has improved every year, is the Vikings' top wide receiver in the NFL, all eyes will be on him in this contest.
Running back Dalvin Cook has had four years with 1,000 or more yards, and the Vikings' ability to switch up the offense with him and Jefferson will be crucial to their success in the postseason.
Giants vs Vikings Prediction
This game has all the makings of becoming another one-score game, and it's difficult to bet against Minnesota when that's the case because the Vikings have been masters of keeping games tight and clinching late wins this season.
NFL Wildcard Round Predictions: Ravens vs Bengals
NFL Wildcard Round Predictions: Ravens vs Bengals
We can anticipate that most of the big names will be returning for this game because the Ravens rested numerous important players in their game against the Bengals in week 18.
Lamar Jackson, the quarterback, will undoubtedly not participate, as he is currently dealing with a knee issue and is not yet healthy enough to practice.
In order to rehab from a shoulder injury, Tyler Huntley, the backup, was limited in practice this week. If Huntley does not report as healthy for Sunday, Anthony Brown, the third string, will take over at quarterback.
The Bengals decided against resting any of their starters on Sunday, and it paid off as they finished the regular season with their eighth straight victory.
Alex Cappa, the right guard, suffered an ankle injury against Baltimore and had to leave the game. Max Scharping will take his place this week.
Cincinnati's offense has hit incredible form just at the right time for the playoffs with Joe Burrow, Joe Mixon, and Ja'marr Chase all peaking at the same time which could spell trouble for the Ravens on Sunday and for any other team that has to come up against the Bengals.
Ravens vs Bengals Prediction
Even though J.K. Dobbins and Mark Andrews will be back in the starting lineup for this game, the quarterback position remains the biggest loss for the Ravens.
There is just no replacing Lamar Jackson, whether Huntley or Brown are at the quarterback position, giving Cincinnati the advantage. It will be a close, competitive game, but I predict another Bengals victory.