Seahawks at Chargers Betting Odds, Game Preview, NFL Week 7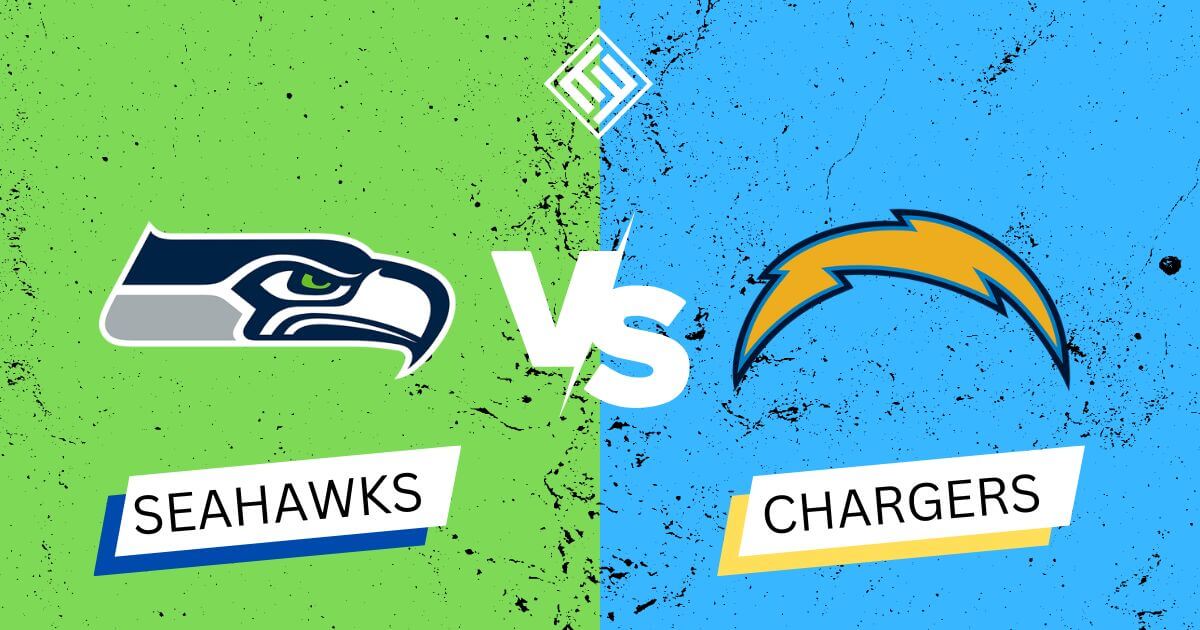 Here is our Seahawks at Chargers Betting preview, including the latest odds for this NFL Week 7 matchup.
Seahawks at Chargers Betting Odds
Here are the Seahawks at Chargers Betting odds, brought to you by YouWager.lv:
Seahawks +5
Chargers -5
Total: 50.5 Over/Under
As you can see, the Chargers are 5-point spread favorites to take the victory at home vs Seattle.
This means that for you to cash in on your wager, LA must win the game by more than five points.
If they win the game but by less than 5 points, you lose your bet.
When it comes to the Seahawks, they are +5 underdogs, and this means that Seattle can even lose the game by less than 5 points and you can still collect your profits.
Now, if Seattle loses the game by more than 5 points you lose your bet.
Read our Falcons at Bengals Betting preview.

Learn How to Bet on Sports with this simple guide.
Seahawks at Chargers Betting Preview
Here is our Seahawks at Chargers Betting preview.
Los Angeles Chargers
The Chargers are looking to remain alive in the AFC West as they welcome Geno Smith and the Seahawks at SoFi Stadium in what promises to be a really good Week 7 matchup.
Despite being plagued with injuries, LA has managed to survive and has acquired 3 victories so far, which includes a victory over the Broncos on MNF.
Now, let's remember that Keenan Allen is sidelined, and QB1 Justin Herbert is currently dealing with an injury.
So, the one that has been keeping the offensive for this team afloat is definitely Austin Ekeler, who is currently working as a double threat as a receiver and rusher.
It was Ekeler who scored the only touchdown for his team during the slight win over Denver.
And also, after a slow start, Ekeler has managed to score six touchdowns this year, including 4 rushings and two receiving. All of those in the previous 3 games.
Ekeler has been doing all the damage himself, but chances are that Allen might make his return for this game and this will just make the team stronger.
Seattle Seahawks
Nobody told the Seahawks that this was going to be a rebuilding year because Seattle is really looking like a team that can end up being a surprise contender in what is now a very packed NFC West.
That being said, the Seahawks' defense hasn't had a good time lately as they have been punished for the past two weeks of action.
As clear proof of this are the stats as they surrendered 235 yards and 3 TDs to NOLA and Taysom Hill.
Then they gave up another 100 yards to the Cardinals and Kyler Murray in their 19-9 victory over Arizona during the weekend.
Geno Smith is definitely the guy in Seattle as he is running an offensive line that is averaging 24 PPG.
Smith is entering this contest with a total of 9 TD passes and only 2 picks.
Rookie RB Kenneth Walker III is doing great things too, including a 69-yard TD versus the Saints a couple of weeks ago.
In short, Seattle is currently 3-3 against the spread this year, they also have enough offensive potential, and most importantly, the underdog has managed to go 6-0 against the spread in the previous six games between these two NFL franchises.
Seahawks at Chargers Betting Prediction
Now it's time for our Seahawks at Chargers Betting prediction.
The spread for this game looks a bit high as the Seahawks have a positive 3-3 record.
And we can add to that the fact Los Angeles has been facing a few struggles when it comes to running the ball properly!
The Chargers are currently 4-2, but let's recall that Herbert threw lots of times, a total of 57 versus Denver and he failed to register a single touchdown pass.
It's important to notice that the Broncos' offense is definitely elite, it's also true that Herbert has been deficient and nothing like the guy everybody though was a candidate for MVP.
Sadly, dealing with injured ribs has been expensive for Herbert and we can all just expect him to get better and help his team finish with a good record.
And, as we pointed out above the Seahawks are undefeated in the previous six meetings between the teams' ATS.
So, if you want to place a wager on this game, grabbing the points with Seattle doesn't seem like such a bad idea.
Thank you for checking out our Seahawks at Chargers Betting article, we wish you the best of luck with your action on this particular game.