Rangers at Lightning Betting Odds, 2022 NHL Playoffs Game 6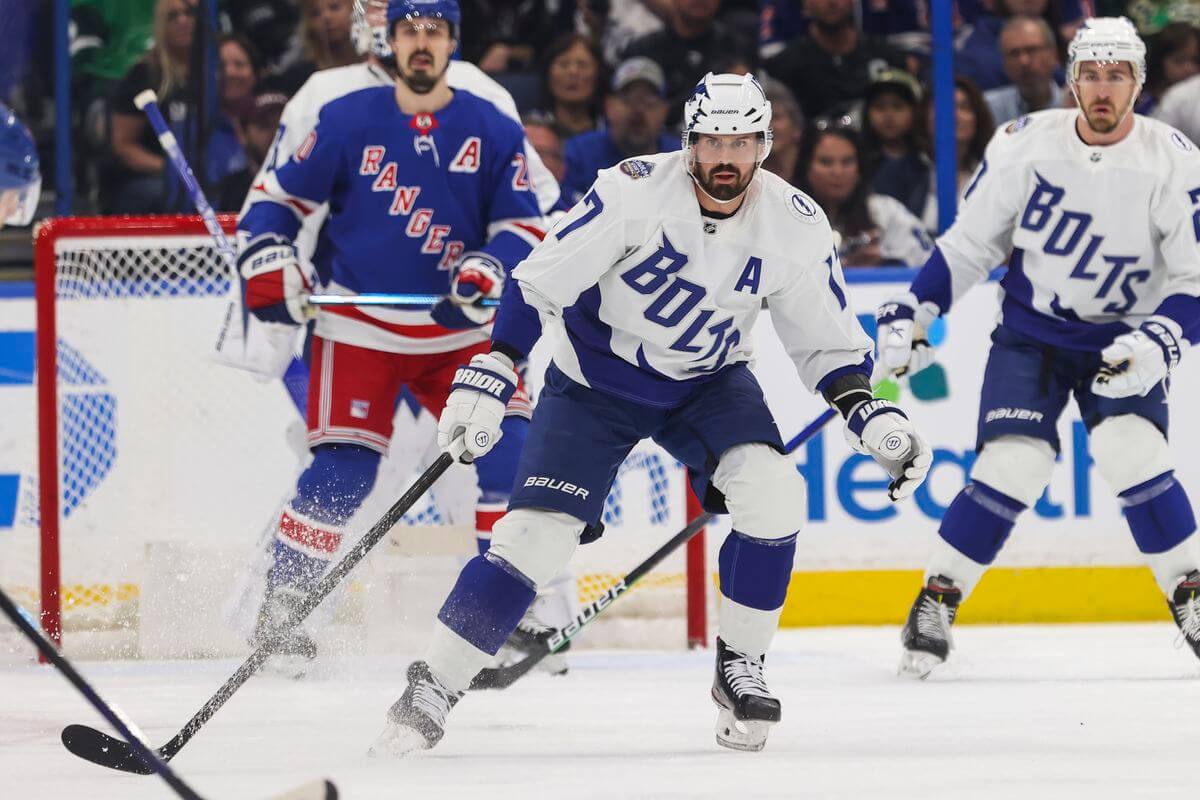 Here are your Rangers at Lightning Betting Odds and prediction for tonight's game 6 of this outstanding NHL Playoffs series!
The Rangers were winning their NHL playoffs series against the Lightning 2-0 less than a week ago.
But after game 3, Tampa has managed to outscore New York 10-2, including their 3-1 game 5 victory.
Before that game, the Rangers enjoyed a nice 8-game winning streak at Madison Square Garden.
Now the series is in favor of the Lightning 3-2. And tonight Tampa has the chance to win the series at Amalie Arena.
If they do, they can advance to the NHL Finals, where the Avalanche is waiting for the winner.
Rangers at Lightning Betting Odds
Place a bet using the latest Rangers at Lightning Betting Odds provided by YouWager.lv:
| TEAM | MONEYLINE | SPREAD | TOTAL |
| --- | --- | --- | --- |
| Rangers | +172 | +1.5 | O 5.5 +130 |
| Lighting | -205 | -1.5 | U 5.5 -150 |
As you can see, the Lightning is the big favorite to get the win tonight and advance to the Stanley Cup Final.
In fact, most experts agree on one thing:
Tampa has everything they require to close out the series and advance to fight the title vs Colorado.
NHL Conference Finals Game 6 Betting Preview
Tampa has been defending quite well, And needless to say, that is going to be an essential factor if they are to obtain their ticket to the NHL Finals tonight.
The Lightning started game 5 slow, but a little later it was all about them on the ice.
Tampa basically built a wall around their net during the second period of that game as the Rangers went scoreless.
During the third period, they conceded New York just a single high-danger shot while they were able to fabricate 6 for themselves.

Lightning Key Players
There are a couple of Tampa players whose performance can be crucial for their team during game 6:
Mikhail Sergachev: Although Sergachev is not exactly known for being a scorer for his team, his goals were indeed crucial for the Lightning to get the victory during game 5. He scored the 1-1 equalizer, and then he beat Igor Shesterkin a second time. If Sergachev is able to put up the same positive kind of show during game 6, the Rangers will definitely be in a lot of trouble.
Andrei Vasilevskiy: Tampa's goaltender has rebounded amazingly well after a game 1 performance that Lightning fans wish to pretty much wipe out from their memories completely. Vasilevskiy has recorded an impressive 6 shutouts out of his last 7 series-clinching matches, and he'll definitely be on the lookout for number 7 vs New York. Indeed, the current Conn Smythe winner will likely be playing his best game of the series tonight to avoid a seventh clash with the Rangers.
Rangers at Lightning Betting SU Pick
And now it's time for our Rangers at Lightning Betting picks for game 6!
The Rangers have been struggling to score like never before during their past 3 games against Tampa.
And, with such a lack of ability to create solid scoring chances, it's very difficult to even think about placing a bet on New York for tonight's game.
And, with the Lightninghaving won 3 straight, and playing game 6 at home, it is likely that they will be the ones stepping up and advancing to the NHL Finals.
PICK: Lightning-200
Rangers at Lightning Betting Total Pick
The Under has been making money for bettors for four straight games.
The offensive for this series has been a bit dry since game one, with both teams dealing with a few injuries.
So, chances are that defense will prevail over offense tonight.
PICK: UNDER 5.5
Best of luck with your Rangers at Lightning Betting action for game 6, feel free to check more of our sports content!