UFC 275 Prochazka vs Teixeira Betting Odds, Preview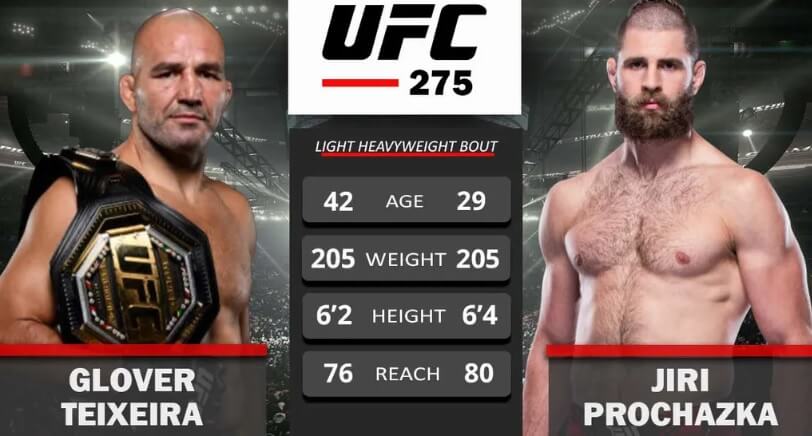 MMA action is headed for Kallang, Singapore for UFC 275, and the card for this MMA event is one you probably wouldn't want to miss if you are a mixed martial arts fan.
The card includes two title bouts and one of the most awaited UFC rematches.
UFC 275 Main Event Jiri Prochazka vs Glover Teixeira
The main event for this card will be a UFC Light Heavyweight Championship bout between challenger Jiri Prochazka and Glover Teixeira, the current champ.
Glover Teixeira
Teixeira is 11-4 since his loss to Jon Jones back in 2014, a bout where the UFC light heavyweight title was on the line.
That 11-4 record includes his current 6-fight streak, including his victory over Jan Blachowicz in October 2021, which allowed him to crown himself as the new UFC light heavyweight champ.
This is the kind of bout where the young guy is attempting to defeat the veteran fighter.
And this is also the first time that Teixeira will be defending his title.

Jiri Prochazka
When it comes to Prochazka, he is a Czech gold medalist in Muay Thai who earned the RIZIN light heavyweight champ honors.
While Prochazka is young, Glover is right now the second-oldest UFC champ of all time.
Having said that, he is also in outstanding shape, and at 42, he looks sharper than ever.
Now, Jiri is an aggressive fighter that gets hit a lot while inflicting the same amount of pain he receives from rivals.
With Jiri being the least experienced from the two, if he wants to take away the titles from Glover he will be forced to have a good early impact, allowing him to weaken Glover while keeping the pace of the rest of the fight.
It's important to mention that Jiri is the favorite to win this fight which means that oddsmakers are anticipating a new title defender after this bout.
Co-Main Event: Shevchenko vs Santos
The co-main event of UFC 275's card will feature Valentina Shevchenko defending her UFC Women's Flyweight title vs Taila Santos in what's expected to be an outstanding 5-round bout.
This fight marks the seventh time that Shevchenko will be defending his title. The last time she did it was back at UFC 266, when he managed to defeat Laure Murphy via TKO in the fourth round.
Weili and Jedrzejczyk Rematch: UFC 275 will also be the perfect opportunity for Zhang Weili and Joanna Jedrzejczyk to get their rematch after facing each other back at UFC 248.
UFC 275 Main Card
Glover Teixeira (+170) vs. Jiri Prochazka (-200)
Valentina Shevchenko (-600) vs. Taila Santos (+425)
Zhang Weili (-177) vs. Joanna Jedrzejczyk (+152)
Rogerio Bontorin (+185) vs. Manel Kape (-220)
Jack Della Maddalena (-135) vs. Ramazan Emeev (+115)
UFC 275 Prelims
Seung Woo Choi (-225) vs. Joshua Culibao (+185)
Brendan Allen (-235) vs. Jacob Malkoun (+190)
Kyung Ho Kang (+130) vs. Batgerel Danaa (-150)
Steve Garcia (-160) vs. Hayisaer Maheshate (+135)
Silvana Gomez Juarez (-160) vs. Liang Na (+135)
Ramona Pascual (+145) vs. Joselyne Edwards (-170)
If you enjoyed this piece on the upcoming UFC 275, we invite you to check other recent sports news here.