How Kyrie Irving affects the Nets title hopes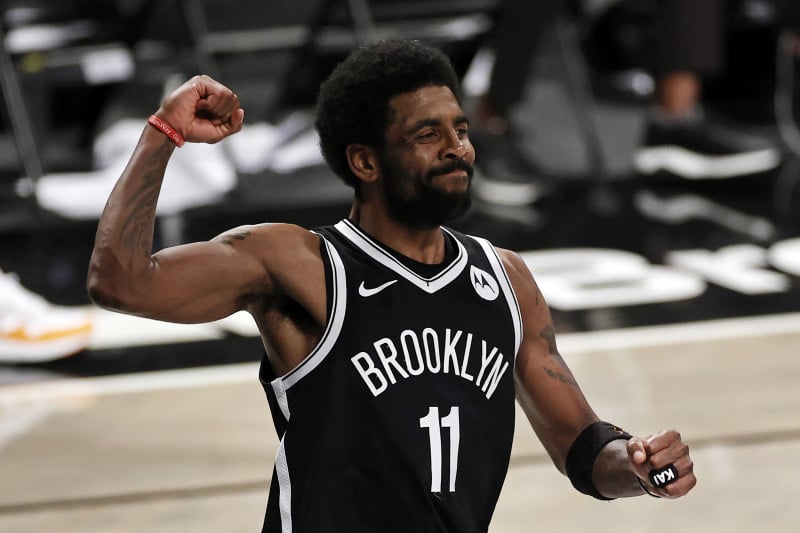 Kyrie Irving finally returned to the basketball court after more than two months on the sidelines.
The controversial star was kept away from NBA action with the state of New York mandating athletes to receive at least one dose of COVID vaccination to use indoor gyms, which includes the Barclays Center and Madison Square Garden. Irving still has not been vaccinated and has voiced no intention to do so.
Up until recently, Nets GM Sean Marks and the organization held the stance that they would keep Irving out of team activities until he was eligible to play in all of its games. With a rash of COVID outbreaks throughout the league, the organization changed its tune and activated Irving for road games outside the state of New York.
The Nets are already the early favorites to win the NBA Championship this season. Just how much does Irving's return boost their chances of winning it all?
The state of the Nets
Brooklyn is off to a good start to the season with a 24-12 record, good for second in the Eastern Conference behind the surprising Chicago Bulls.
Brooklyn is currently +275 to win the Championship this season on YouWager. Golden State has the next shortest odds at +400. The Nets are also +140 to win the East, followed by Milwaukee at +275.
Analytically speaking there is still quite a bit to be desired from this team. They have been able to outmuscle teams late in games, largely trusting Kevin Durant to bail the team out. Defensively, Steve Nash has to be pretty pleased with his team which has been one of the better groups on that side of the floor. They are only slightly above average on offense though, and they are winning by less than 3 points on average. A 14-21-1 record against the spread (2nd worst in the NBA) is partially a product of this team being heavily favored because of its star power. But it is also not nearly as dominant as many expect it to be.
The Kyrie effect
In Irving's first appearance of the season, he posted 22 points on more than 52-percent shooting and 4 assists at Indiana. That puts to rest many worries of him coming in cold.
Irving's game has evolved, or devolved depending how you look at it, into a purely score-first mentality. He has never been the type to compete for the league lead in assists. That is not to say he does not make his team or teammates more effective. In 2021, the Nets had the best offensive rating in the NBA when Durant, Irving and James Harden were on the floor together. They averaged more than 119 points per 100 possessions, with a 7-point margin of victory. This was with a much poorer effort on defense.
Irving also allows the team to stagger its minutes among three stars rather than two. Irving was often the bridge between the starters and the bench, buying time for Durant and Harden to rest while he led the offense with the bench players. Undoubtedly, he will relieve them of a lot of minutes on road trips and back-to-backs.
No matter which way you spin it, having one of your top three stars unavailable for home games is a big loss. Commentators will make an issue of the lineup being inconsistent from night to night as a burden exclusive to this team. That is a bit of an overstatement in today's game as lineups are constantly in flux. But when you get to the playoffs and are missing a point guard for 4 games, that hurts.
Now add in the possibility of playing a series against the Knicks or Toronto where Irving would be unavailable regardless of the site and there is another big hurdle.
Brooklyn has the 10th most difficult remaining strength of schedule, with games against Phoenix, Golden State, Chicago, two against Utah and three against Milwaukee. In case you were wondering, the Nets have 24 road games left, though two are at the Knicks. That means about 22 possible games with Irving. Take another off the list at Toronto and we are down to 21. This includes a 5-game road trip where they will face Phoenix, Golden State, Utah and Denver at the end of January.
Do not be mistaken. Having Irving back is a boost to this team, especially on those long road trips. It just may not greatly increase his team's win total or title hopes depending how the playoff matchups fall in line.