Texas vs Iowa State Predictions, Odds Week 12 2023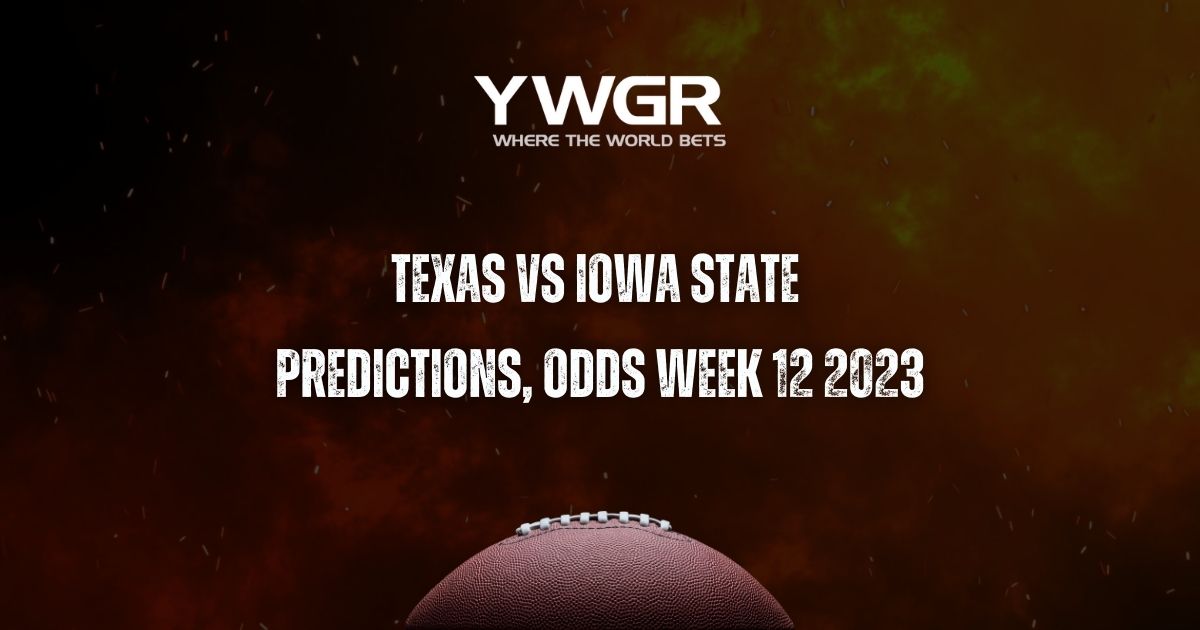 See our analysis of who we believe will win and cover in Ames in our week 12 Texas vs. Iowa State prediction and preview.
The defense of Texas is giving up 12 yards for each completion.
The passing yard average for Iowa State is 218.6 yards per game.
PREVIEW: TEXAS VS. IOWA STATE
The Longhorns and Cyclones play in NCAAF week 12 game at Jack Trice Stadium starting at 8:00 ET. FOX will be the broadcast partner for the Saturday, November 18th event.In this Big 12 matchup, the Longhorns are the away favored by 7.5 points. Can they cover the spread and win on the road?
A GLANCE AT THE TEXAS VS. IOWA STATE MATCHUP
Teams: Iowa State Cyclones vs. Texas Longhorns
Where: Jack Trice Stadium in Ames
Date: November 18, Saturday
A PREVIEW OF TEXAS: WILL IT REBOUND AFTER A LOSS?
Texas is now 9-1 as they get ready for this week's matchup with Iowa State after defeating TCU 29–26. Texas has started as the underdog in one game and as the favorite in eight others thus far. Due to this, there has been an average score differential of +15.4 and an ATS record of 4-5. The average over/under line for Texas matchups after ten games is 54.7 points. OU had a 2-6-1 record as a result of their games' average cumulative score of 52.2 points.
In terms of offense, the Longhorns amassed 165 rushing yards and two touchdowns on the ground versus TCU. Texas scored one goal and threw the ball 33 times for 317 yards in the passing offense. Texas defeated TCU with a score from quarterback Quinn Ewers. With 317 yards and 66.7% of his throws completed, he finished with a passer rating of 95.14 overall.
By the end of the game, TCU had gained 390 yards in total thanks to the Longhorns' defense. 88 yards were gained through the run defense, compared to 302 yards during the passing game. With 18.4 points allowed per game entering this week's contest, the Texas defense is ranked 64th in terms of points allowed. They rank 131st in the nation in passing yards allowed per game, with opponents averaging 247 passing yards against them. They rank 13th in college football due to their 90.1 running yard yield rate on the ground.
A PREVIEW OF IOWA STATE: CAN IT REBOUND AFTER A LOSS?
Iowa State improved to 6-4 with their 45–13 victory over BYU, setting them up for this week's matchup with Texas. The Cyclones have been the underdog in four games and the favorite in five coming into this week's game against Texas. They have a 5-4 ATS record going into the match. The average over/under for Iowa State's games this season has been 44.4 points. The Cyclones enter this week's game with an over/under record of 4-5.
With 25 pass attempts in the game against BYU, the Cyclones finished with 209 yards and two touchdowns. They scored four touchdowns on the ground while averaging 6.3 yards per carry in the running game. QB Rocco Becht completed 15 of 23 passes for 203 yards and a QB rating of 122.19 in the victory over BYU. He also brought two scores into the contest.
By the end of the game, BYU had gained 318 yards in total thanks to the Cyclones' defense. Compared to 130 yards during the passing game, the team's run defense gave up 188 yards on the ground. With 19.9 points allowed per game, the Iowa State defense is ranked 72nd in terms of points allowed. Teams who play against them allow an average of 204.3 passing yards per game (ranked 54th in the nation). They rank 49th in college football for rushing defense, having allowed 126 rushing yards.
Betting odds, trends, and analysis for Texas vs. Iowa State
Texas prevailed 24-21 over the club in their most recent head-to-head game (last year). Iowa State had the advantage in terms of offensive yards, scoring 403 on the offensive side of the ball. Texas' offensive output for the game was 363.
Texas has changed from being -8 point favorites to their current line of -7.5 (-110) since the lines began. At the moment, Iowa State is a +7.5 (-111) point home underdog. Texas is now assigned a 76% chance of winning and a moneyline payout of -320 according to the moneyline odds. However, the Cyclones have a moneyline of +253 and an implied win percentage of 28%.
BETTING TRENDS
Texas has a 2-3 road record against the spread.
Iowa State has a 3-2 record against the spread in their last five home games.
In their last five games as an underdog, Iowa State's overall track record is 2-3.
Texas has a 1-4 ATS record in their previous five games as the favorite.
YouWager.lv you can wager on the different betting types, such as moneyline, spread, and total, and you can bet either on your favorite team or an undervalued underdog, always with the best and latest wagering lines. Open your account now and receive a 100% bonus on your first cryptocurrency deposit, just click below: