Virginia Tech vs Boston College Predictions, Odds Week 11 2023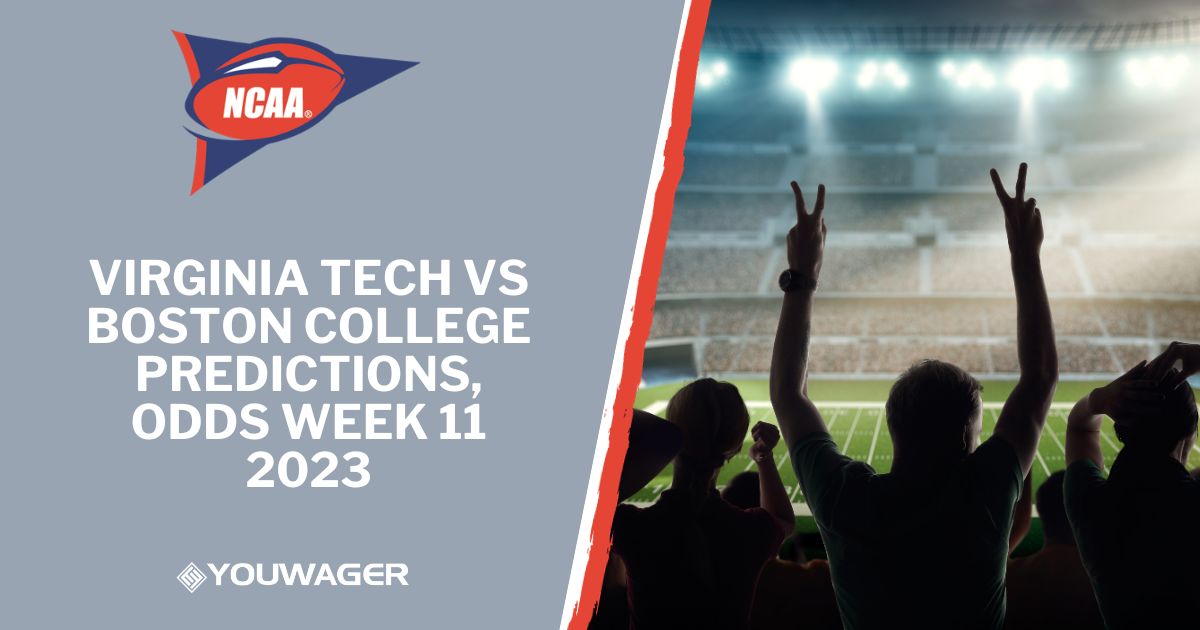 See who likes to win and cover the spread in our week 11 NCAAF Virginia Tech vs Boston College preview.
Virginia Tech's defense ranks 86th in terms of points allowed.
Boston College averages 201.1 passing yards per game.
VIRGINIA TECH VS BOSTON COLLEGE PREVIEW
The Boston College Eagles and Virginia Tech Hokies will square off at Alumni Stadium (MA) in Chestnut Hill, MA on Saturday, November 11th at 12:00 PM ET. The game will be broadcast live on ACCN.The Hokies are 1.5 point road favorites in this showdown of Atlantic Coast Conference rivals. Can they win on the road and cover the spread?
VIRGINIA TECH VS. BOSTON COLLEGE MATCHUP AT A GLANCE
Sport: College Football
Teams: Virginia Tech Hokies at Boston College Eagles
Where: Chestnut Hill at Alumni Stadium (MA)
Date: Saturday, November 11th
VIRGINIA TECH PREVIEW: WILL VIRGINIA TECH BULD OFF THEIR WIN?
The Virginia Tech Hokies fell to 4-5 on the season after their most recent loss against Louisville. Virginia Tech's season average score differential is -0.6, resulting in an ATS record of 5-4. The Hokies have been favored three times and underdog five times this season. Virginia Tech has a 5-4 over/under record so far this season. Their encounters have resulted in a total score of 47.7 points on average, with a 45.9 point over/under line.
The Hokies offense finished with 12 first downs and 140 yards of total offense. They attempted 23 passes for 72 yards via the air. Their running game gained 68 yards on 28 tries for a total of 68 yards. Kyron Drones passed for 69 yards on 12 of 21 attempts in the loss to Louisville. He had a passer rating of 43.55 overall and did neither throw or rush for a touchdown.
The Virginia Tech defense allowed 382 yards of offense against Louisville. They gave up 151 yards in the passing game and 231 yards on the ground. This season, the Hokies' defense has allowed 160.2 running yards per game, ranking 104th. Opponents are averaging 163.8 passing yards per game against Virginia Tech, and opposition quarterbacks have a passer rating of 93. They are currently ranked 58th in the NCAA in terms of points allowed.
BOSTON COLLEGE PREVIEW: HOW WILL BOSTON COLLEGE BOUNCE BACK AFTER A LOSS?
The Boston College Eagles have a 6-3 record heading into this week's game against Virginia Tech. This comes following a 17-10 victory over Syracuse in their most recent encounter. This season, Boston College has been the favorite in three games and the underdog in four. Their current ATS record is 4-3. This season, Boston College has a 4-3 over/under record. Their games have combined for 53.2 points on average, with the average over/under line being 50.4 points.
The Eagles tried 37 passes against Syracuse, gathering 165 yards and scoring one touchdown. They averaged 3.5 yards per carry on the ground, resulting in one rushing touchdown. In Boston College's triumph over Syracuse, quarterback Thomas Castellanos scored once through the air and once on the ground. Throughout the game, he passed for 165 yards and had a completion rate of 54.1%.
The Eagles defense was outstanding against Syracuse, allowing only 10 points on 246 yards allowed. Syracuse's passing game totaled 37 yards. Boston College allowed 7.0 yards per attempt up front. Boston College's defense, ranked 174th in passing yards allowed per game, prepares to face Virginia Tech. Opponents have attempted 23.2 passes per game on average against the Eagles. They rank 98th in college football, allowing 26.3 points per game. Their rush defense is ranked 121st in the nation.
VIRGINIA TECH VS BOSTON COLLEGE BETTING ODDS, TRENDS & ANALYSIS
The most recent meeting between Virginia Tech and Boston College resulted in a 27-10 victory for Virginia Tech. Virginia Tech gained 144 yards on the ground and 140 yards in the air. Boston College, on the other hand, finished the game with 155 yards of offense.
Boston College has moved from -2.5 point favorites to +1.5 (-112) since the lines were first established. Virginia Tech, on the other hand, is currently a -1.5 (-110) point underdog on the road. Virginia Tech was granted a moneyline payout of +114 at the start, which has since been reduced to -119. Based on the odds, Boston College has a 51% chance of winning and Virginia Tech has a 54% chance of winning.
KEY BETTING TRENDS
Virginia Tech has an ATS record of 2-3 vs. the spread while playing on the road.
Boston College has gone 3-2 ATS in their last five home games.
The Eagles are 2-1 as underdogs in their previous three games.
Virginia Tech is 3-2 ATS in their last five games as the betting favorite.
YouWager.lv you can wager on the different betting types, such as moneyline, spread, and total, and you can bet either on your favorite team or an undervalued underdog, always with the best and latest wagering lines. Open your account now and receive a 100% bonus on your first cryptocurrency deposit, just click below: