Texas vs TCU Predictions, Odds Week 11 2023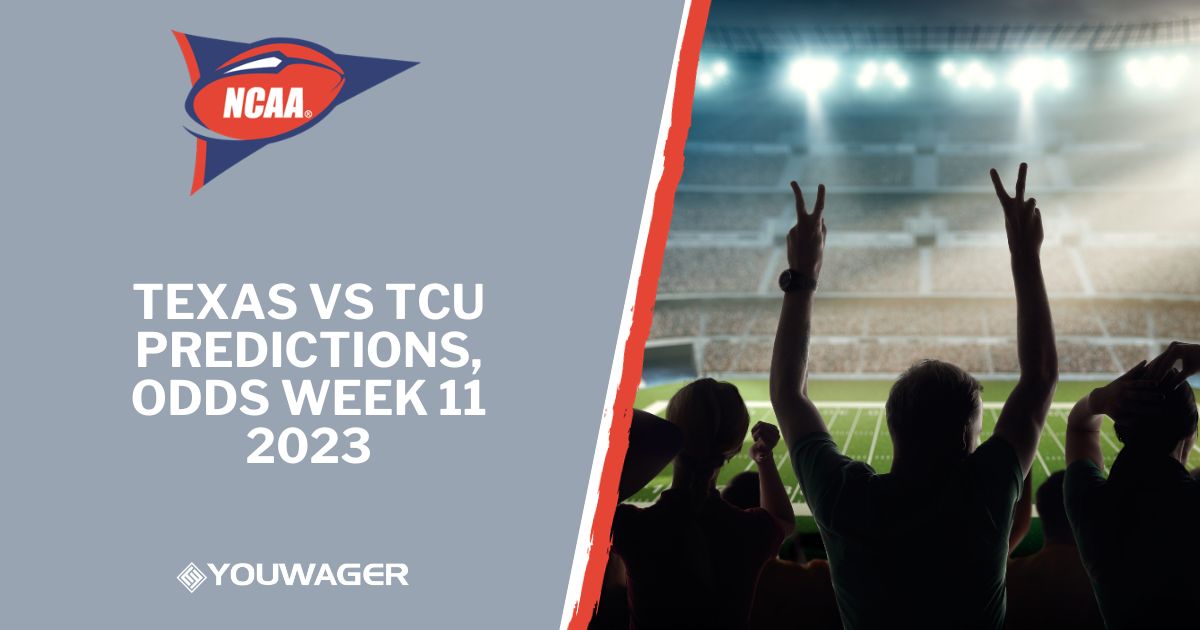 Read on for our week 11 Texas vs TCU college football preview, with betting odds and analysis, and find out who we think will win and cover in Fort Worth.
The Texas defense allows 11.9 yards per completion.
TCU's Horned Frogs are ranked 16th in passing yards.
TEXAS VS TCU PREVIEW
The Horned Frogs and Longhorns square off at Amon G. Carter Stadium at 7:30 p.m. ET in Week 11 of the NCAAF. The game will be broadcast on ABC on Saturday, November 11th.The Longhorns are the 10 point road favorite in their Big 12 matchup. Will they be able to conduct business while on the road? Continue reading to discover out.
TEXAS VS. TCU MATCHUP AT A GLANCE
Sport: College Football
Teams: Texas Longhorns at TCU Horned Frogs
Where: Fort Worth at Amon G. Carter Stadium
Date: Saturday, November 11th
TEXAS PREVIEW: WHAT'S THE PLAN FOR TEXAS FOLLOWING A LOSS?
Texas improved to 8-1 with a 33-30 victory over Kansas State, ahead of this week's game against TCU. Prior to this week's game against TCU, the Longhorns had been favored in seven games and underdog in one. Their ATS record entering the game is 4-4. Texas has a 2-6 over/under record this season. Their games have produced a combined total of 51.9 points on average, with a usual over/under line of 54.7 points.
Against Kansas State, the Longhorns passed the ball 37 times for 248 yards and one touchdown. They concluded with two running touchdowns and averaged 6.2 yards per carry. Maalik Murphy, the team's previous quarterback, attempted 37 passes against Kansas State. He finished the game with 248 passing yards and 51.4% completion rate. He also had two interceptions in the victory.
The Longhorns' defense concluded the game with 360 total yards allowed to Kansas State. The team's run defense yielded 33 yards rushing while allowing 327 yards passing. Texas' defense is ranked 83rd in passing yards allowed per game entering the contest. Opponents throw the ball 35.8 times per game against the Longhorns. They allow 17.6 points per game, which ranks 59th in college football. They are ranked 15th in the NCAA in terms of rushing yards allowed.
TCU PREVIEW: WILL TCU BULD OFF THEIR WIN?
TCU enters this game with a 4-5 overall record. They were defeated by Texas Tech 35-28 in their most recent game. TCU has been the favorite in six games this season and the underdog in two. Their current ATS record is 3-5. The average over/under line for TCU games this season has been 58.2 points. The Horned Frogs have a 3-5 over/under record into this week's game.
The Horned Frogs completed 52 passes for 353 yards and one touchdown against Texas Tech. They averaged 3.2 yards per carry and scored three touchdowns on the ground. QB Josh Hoover had 52 throw attempts against Texas Tech in their previous game. He finished the game with 353 passing yards and a 61.5% completion rate. In addition, he had two interceptions in the loss.
TCU's defense allowed 431 yards of offense against Texas Tech. They allowed 282 yards in the passing game and 149 yards on the ground. So far this season, the Horned Frogs' defense has allowed 149.2 running yards per game (122nd). Opponents are averaging 236.4 passing yards per game against TCU, and opposing quarterbacks have an 80.8 passer rating. They rank 56th in the NCAA in terms of points allowed.
TEXAS VS TCU BETTING ODDS, TRENDS & ANALYSIS
TCU won the most recent game between the teams, defeating Texas 17-10. TCU had the advantage offensively, with 283 yards to Texas' 199. TCU's offense totaled 159 running yards and 124 passing yards.
Right now, the point spreads for Texas and the Horned Frogs are exactly where they started. Texas is now favored by -10 points, while TCU is favored by +10 points at home. According to the current moneyline odds, Texas has an 80% chance of winning and a -397 moneyline payout. With a moneyline of +300, the Horned Frogs' projected win probability is 25%.
KEY BETTING TRENDS
Texas has gone 1-2 ATS in their previous two away games.
TCU is 0-3 ATS in their last three home games.
The Horned Frogs are 0-3 as underdogs in their last three games.
Texas has an ATS record of 2-3 in their previous five games as the betting favorite.
YouWager.lv you can wager on the different betting types, such as moneyline, spread, and total, and you can bet either on your favorite team or an undervalued underdog, always with the best and latest wagering lines. Open your account now and receive a 100% bonus on your first cryptocurrency deposit, just click below: