Florida State vs Pittsburgh Betting Odds, Predictions, Week 10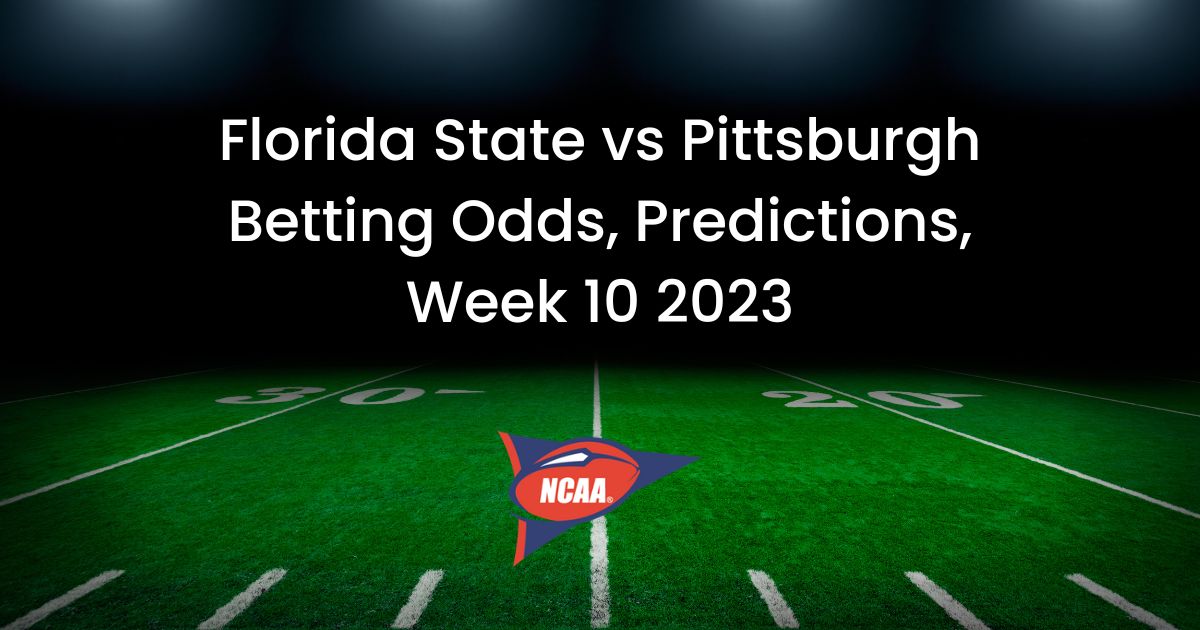 Check out our week 10 Florida State vs Pittsburgh Betting preview to get our insight on who will win and cover in Pittsburgh.
Florida State ranks 36th with a passing completion rate of 65.5%.
Against Pittsburgh, opposing quarterbacks have a passing rating of 98.4.
Kickoff between the Seminoles and the Panthers is set for 3:30 PM ET at Acrisure Stadium in Pittsburgh, PA. ESPN will broadcast the match.In this road game between two rivals from the Atlantic Coast Conference, the Seminoles are the 21.5-point favorites. Can they cover the spread and win away from home?
Florida State vs Pittsburgh Betting Odds
Here are the Florida State vs Pittsburgh Betting odds:
| TEAM | SPREAD | MONEYLINE | TOTAL |
| --- | --- | --- | --- |
| Florida State | -21 | -1645 | Over 50.5 |
| Pittsburgh | +21 | +1095 | Under 50.5 |
Florida State vs Pittsburgh Betting Preview
Here is the Florida State vs Pittsburgh Betting preview.
Florida Preview
As they prepare to take on Pittsburgh this week, the Florida State Seminoles are undefeated at 8-0. They recently defeated Wake Forest 41-16 to win their most recent game. Before this week's game against Pittsburgh, the Seminoles had been the underdog in one game and the favorite in six others. They had a 5-2 ATS record going into the match. Florida State has a 6-1 over/under record thus far this season. Their meetings have produced a cumulative average score of 59.8 points, with an over/under margin of 52.5 points on average.
In their final 36 pass attempts against Wake Forest, the Seminoles gained 382 yards and three touchdowns. They scored two rushing touchdowns and averaged 4.6 yards per carry in the rushing game. Jordan Travis threw for 359 yards against Wake Forest and ended with a passer rating of 125.77. With 35 passing attempts at the end of the game, he completed 62.9% of them.
212 offensive yards were allowed by Florida State's defense against Wake Forest. They gave up 130 yards on the ground and just 82 yards in the passing game. The Seminoles lead the nation in quarterback rushes and have 21 sacks going into the game on defense. This season, they have surrendered 18.2 points per game (ranked 64th). They allow 185.9 passing yards per game, which ranks them 35th in the NCAA in terms of pass defense. Florida State has given up 146.9 rushing yards per game against the run so far.
Pittsburgh Preview
The Pittsburgh Panthers dropped to 2-6 on the season with their most recent defeat at the hands of Notre Dame. The Panthers have been the underdog in four games and the favorite in three coming into this week's game against Florida State. They had a 1-6 ATS record going into the match. The average over/under line for Pittsburgh's games has been set at 45.3 points after eight games. With an average total score of 51.1 points from these games, OU has a 5-2 record.
Against Notre Dame, the Panthers' offense amassed 255 yards of total offense, of which 202 came from the air and 53 from the ground. They made one of their eleven third-down attempts and one throwing touchdown. QB Christian Veilleux attempted 29 passes against Notre Dame in their previous game. He completed with a completion percentage of 48.3% and 127 passing yards. He also threw four interceptions in the defeat.
Pittsburgh's defense gave up 538 yards to Notre Dame in all. This entails forfeiting the allotted 158 running yards and 380 passing yards. Pittsburgh's defense, which allows 125 yards of passing per game, comes into the contest rated 125th. When facing the Panthers, opponents toss the ball 26.1 times on average. In college football, they rank 109th with 28.8 points allowed per game. Their current ranking in the NCAA is 66th for the number of rushing yards allowed.
Florida State vs Pittsburgh Betting Analysis and Trends
With a perfect record of 10 games against Florida State, Pittsburgh has a significant advantage. The Seminoles average 20 points per game, while the Pittsburgh Panthers score 40.
In their last three games as the underdog against Florida State, Pittsburgh has gone 2-1 against the spread.
So far, the point spreads have been quite consistent. At the moment, Pittsburgh is at +21.5 (-110), while Florida State is the favorite with a -21.5 point spread and a -110 payout. The Seminoles' initial odds of -2500 are not the same as the current moneyline payout of -2040. Right now, Pittsburgh has an implied win probability of 10% and Florida State has an implied win probability of 95%.
Key Betting Trends
In their last ten games against the spread, Florida State has an 8-2 record.
Pittsburgh's record in their last five home games against the spread is 1-4.
Pittsburgh's overall record (ATS) was 2-8 the past ten times they started a game as the underdog.
Florida State has an ATS record of 4-1 in their previous five games as the favorite.
YouWager.lv you can wager on the different betting types, such as moneyline, spread, and total, and you can bet either on your favorite team or an undervalued underdog, always with the best and latest wagering lines. Open your account now and receive a 100% bonus on your first cryptocurrency deposit, just click below:

Florida State vs Pittsburgh Betting Odds, Predictions, Week 10 by YouWager.lv.