USC vs Notre Dame Betting Predictions, Odds Week 7 2023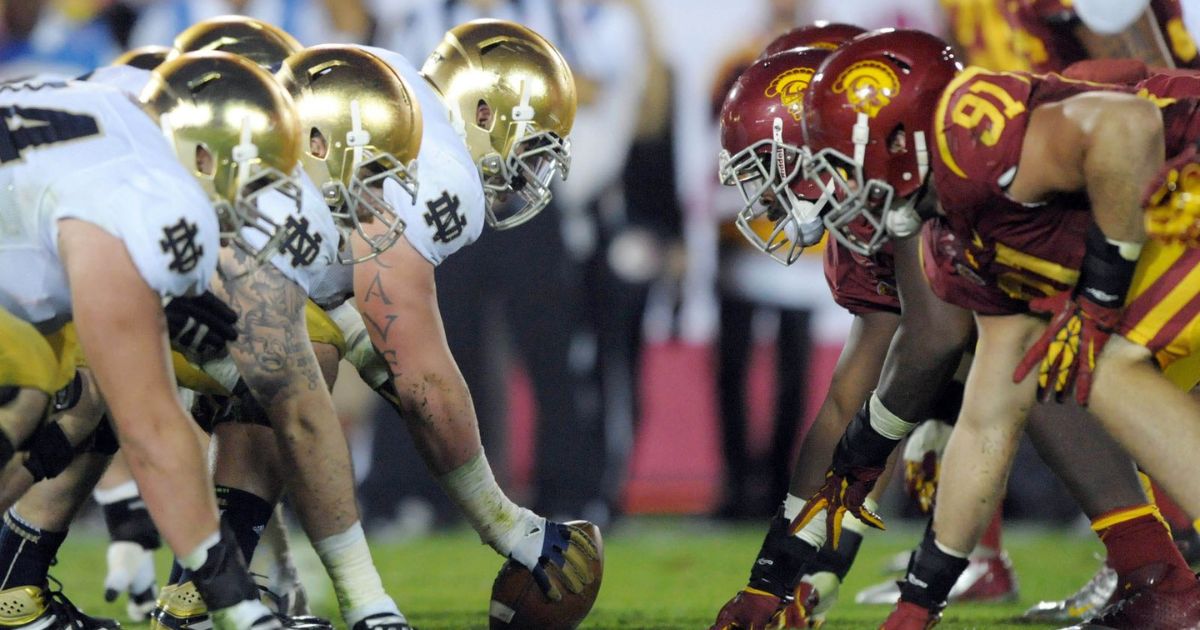 USC vs Notre Dame Betting prediction and odds for this NCAA week 7 game.
Find out who we think will win and cover in Notre Dame by reading our pick and preview for the USC vs. Notre Dame game in week 7.
Two teams are ahead of USC in throwing yards
Notre Dame's defense gives up 62nd most points in the country
USC vs Notre Dame Betting Odds
Here are the USC vs Notre Dame Betting odds:
USC +3
Notre Dame -3
Total: 61.5 Over/Under

USC vs Notre Dame Betting Predictions
Here are the USC vs Notre Dame Betting predictions.
This week 7 CFB game between the Trojans and the Fighting Irish can be seen on NBC at 7:30 p.m. (10/14/23). The game will take place at Notre Dame Stadium in Notre Dame, Indiana.There is a 2.5-point spread that says the Fighting Irish will win this non-conference game. Are they the best bet against the spread, or would the Trojans be a better deal? Keep reading to find out.
USC Preview
First on this USC vs Notre Dame Betting preview, we have the Trojans.
As of today, the USC Trojans had a perfect 6-0 record going into their game against Notre Dame. Their most recent game was against Arizona, and they won 43-17. USC has a 2-3 record when playing against the spread. This score was reached while being favorites in all games. During this season, USC has a 4-1 record against the spread. The average number of points scored in all of their games is 78.8, and the average number of points scored over or under is 67.3.
The Trojans threw 25 times against Arizona and gained 219 yards and a touchdown. They averaged 4.4 yards per carry when running the ball, which led to five scores. The last time USC beat them, Caleb Williams not only threw one touchdown but also ran for three. All together, he completed 56.0% of his passes and threw for 219 yards during the game.
Arizona got 506 yards against the Trojans' defense at the end of the game. The team's run defense gave up 203 yards on the ground, but 303 yards through the air. This season, the Trojans' defense has allowed 157 running yards per game, which is the 97th most in the country. Other teams are throwing for an average of 264.3 yards, and their players have a passer rating of 93.9 when they play USC. They are currently ranked 38th in the NCAA in terms of how many points they give up.
Notre Dame Preview
Second on this USC vs Notre Dame Betting preview, we have the Fighting Irish.
After their last game against Louisville, Notre Dame's record went down to 5-2, which is not good. The score at the end of the game was 33–20 for the Fighting Irish. This season, Notre Dame is 3-2-1 against the spread. The Fighting Irish have been the favorite five times and the outsider once. Most of Notre Dame's seven games have gone over or under the set number of points (52.2). The total score for these games has been 50 points on average, giving OU a record of 2-4.
The Fighting Irish's offense gained 299 yards in the game against Louisville. Of that total, 45 yards came from running plays and 254 yards came from passing plays. They only succeeded three times out of thirteen times on third down and threw two scores in total. Head coach Sam Hartman had a quarterback rating of 62.83 after the loss to Louisville. He completed 22 out of 38 passes for 254 yards. Besides that, he scored two goals for the team.
Louisville got 332 yards from the Fighting Irish's defense at the end of the game. The defense gave up 187 yards on the ground while only allowing 145 yards in passes. In terms of defense, the Fighting Irish are in first place with 11 sacks and 1 quarterback hurry.
So far this season, they've given up 15.9 points per game, which ranks 62nd. They give up 146.6 receiving yards per game, which is 12th best in the NCAA. So far this season, Notre Dame has given up 133.4 yards per game on the ground.
USC vs Notre Dame Betting Trends and Analysis
The last time these two teams played, USC beat Notre Dame 38–27, so they can now talk about beating them. USC ran for 204 yards and threw for 232 in the win. As a team, the Trojans were 8/12 on third down. On the other hand, Notre Dame made 23 out of 26 passes, gaining 318 yards, and ran for 90 yards.
The oddsmakers changed the lines to -2.5 in favor of Notre Dame since they started as a 1-point favorite at home. The current moneyline odds for USC give them a 47% chance of winning and a +111 return. But the Fighting Irish have a moneyline of -134, which means they are expected to win 57% of the time.
USC vs Notre Dame Betting Trends
USC has a 2-3 record against the spread when they play on the road
In the last ten games played at home, Notre Dame has gone 7-3 against the spread
In their last three games as favorites, Notre Dame has gone 1-2-1
As a favorite, USC has lost three of their last five games
At YouWager.lv you can wager on the different betting types, such as moneyline, spread, and total, and you can bet either on your favorite team or an undervalued underdog, always with the best and latest wagering lines. Open your account now and receive a 100% bonus on your first cryptocurrency deposit, just click below: