Miami vs North Carolina Betting Predictions, Odds Week 7 2023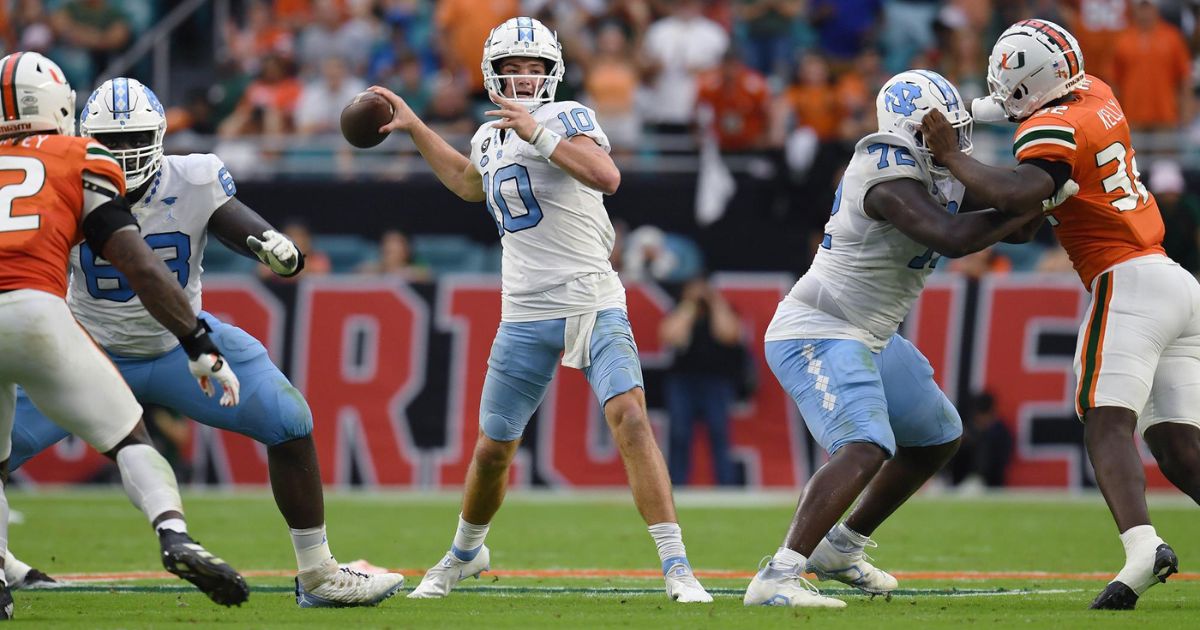 Miami vs North Carolina Betting predictions and odds for this NCAA week 7 game.
Check out our pick and preview for the NCAA week 7 game between Miami and North Carolina by reading on. We'll talk about who will win and cover the spread in this piece.
The 37th most points were given up by Miami's defense.
It's 31st in the country for North Carolina Tar Heels to throw for yards.
Miami vs North Carolina Betting Odds
Here are the Miami vs North Carolina Betting odds:
Miami Florida +4
North Carolina -4
Total: 57 Over/Under
Miami vs North Carolina Betting Predictions
You can watch this week's 7 CFB game between the Hurricanes and the Tar Heels on ABC at 7:30 (10/14/23). Chapel Hill's Kenan Memorial Stadium is where the game will take place.It looks like the Tar Heels will win this Atlantic Coast game by 3.5 points at home. Can they win at home and cover the spread?
Miami Prediction
First, we have the Miami vs North Carolina Betting prediction on the Hurricanes.
Following their most recent loss to Georgia Tech, Miami's record now stands at 4-1. The Hurricanes couldn't get the win, and the game ended with a score of 23–20. The favorite in three games this season has been Miami. The outsider in one game has been Miami. Right now, their ATS record is 3-1. Miami has a 2-2 record on the over/under so far this season. The average score in their games together is 53.6 points, and the over/under is usually set at 49.8 points.
When it came to offense, the Hurricanes scored one touchdown on the ground against Georgia Tech and ran for 165 yards. Miami scored one touchdown and threw 36 times, gaining 288 yards. In Miami's loss to Georgia Tech, quarterback Tyler Van Dyke threw for one score. He finished 66.7% of his passes, which added up to 288 yards and a passer rating of 65.51.
Against Georgia Tech, Miami's defense let the other team score 250 yards. Their defense gave up 151 yards through the air and 99 yards on the ground. The Hurricanes' defense has 11 sacks and is first in quarterback hits going into this week's game. They've given up 14.6 points per game so far, which is 37th best. They give up 210.2 passing yards per game, which ranks them 66th in the country for pass defense. Also, Miami's defense gives up 58.2 yards of running back per game when it comes to stopping the run.
North Carolina Prediction
Second, we have the Miami vs North Carolina Betting prediction on the Tar Heels.
Up next is a game against Miami this week. The North Carolina Tar Heels still have a perfect 5-0 record. They beat Syracuse 40–7 in their last game. The Tar Heels are still unbeaten at 4-0 when you look at the spread. The team has scored 176.6 goals so far this season. Every game they've played so far has been a favorite. North Carolina has lost three of their five games this season, with an over/under score of 1-3. Their games have scored an average of 55.6 points.
The Tar Heels threw the ball 49 times against Syracuse, completing a 442 yard pass with three touchdowns. They gained an average of 4.2 yards per run and scored one touchdown on the ground. Drake Maye found the end zone more than once against Syracuse. He ran for one score and threw for 442 yards and three touchdowns.
The Tar Heels' defense was great against Syracuse. They only let Syracuse score 7 points and gain 222 yards. Syracuse gained 129 yards through the air. When they tried to attack, North Carolina gave up 3.4 yards per try. North Carolina lets 19 points per game, which ranks them 51st in the country in points allowed. On average, teams have gained 216.8 receiving yards against them, which ranks them 77th. They're giving up 118.6 yards per carry, which is 51st in college football.
Miami vs North Carolina Betting Trends and Analysis
To keep going strong after beating Miami 27-24 last year, North Carolina will try to build on that win. Miami could only run for 42 yards because North Carolina's defense made it hard for them up front. North Carolina had 309 passing yards and 161 running yards by the end of the game.
North Carolina used to be a 4 point favorite at home, but now the lines have changed to -3.5. North Carolina has moved from -175 to -179 on the moneyline since the game started, which means that 64% of people think they will win. At the moment, the implied chances for Miami are 40%, and the moneyline is +147. The Hurricanes' odds were +143 when they first started.
Miami vs North Carolina Betting Trends
Miami has a 2-3 record against the spread when they play on the road
North Carolina has won all three of its home games against the spread
North Carolina is 2-1 against the spread in their last three games as an underdog
When Miami is the favorite, they have lost two of their last three games
At YouWager.lv you can wager on the different betting types, such as moneyline, spread, and total, and you can bet either on your favorite team or an undervalued underdog, always with the best and latest wagering lines. Open your account now and receive a 100% bonus on your first cryptocurrency deposit, just click below: