Christian McCaffrey Ties 49ers' Jerry Rice Record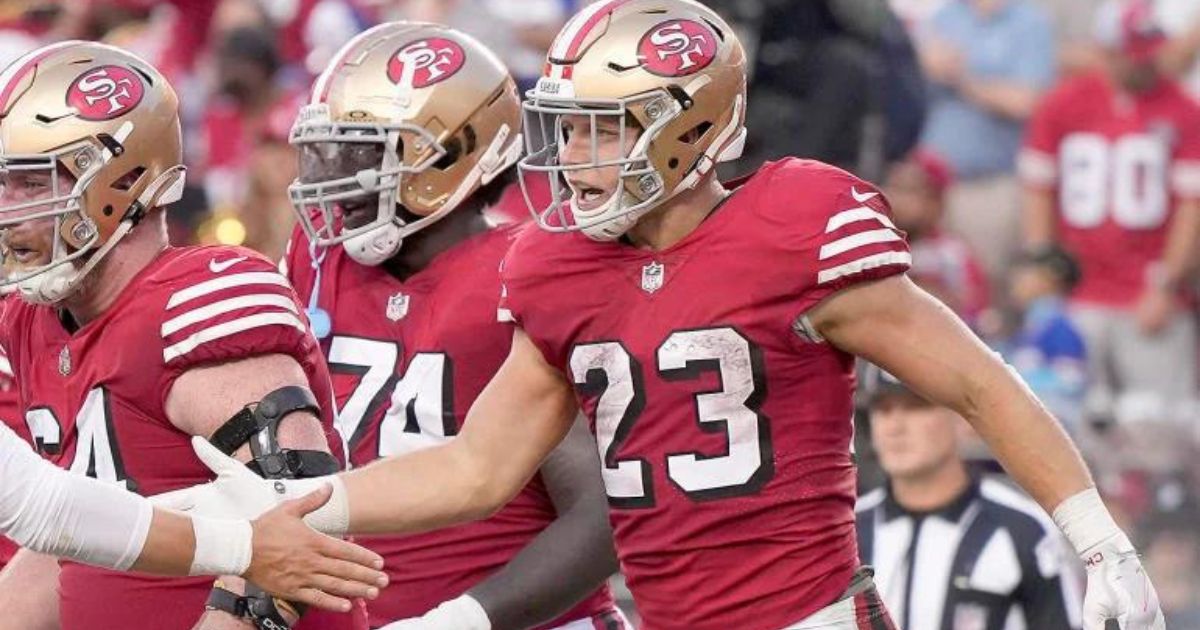 On the latest edition of Thursday Night Football, Christian McCaffrey managed to tie the 49ers' record held by Jerry Rice.
Who comes to mind when you think of the best attacking players of all time? One of the first names that probably comes to mind is Jerry Rice. Now let's do the same thing, but fast forward to today. Christian McCaffrey is probably on that list.
The fact that they are both great at their jobs and play for the San Francisco 49ers is not the only thing they have in common. Both of them now hold the franchise record for most straight games with a touchdown, including playoffs.
Rice was the only one to hold this record from 1987 until Thursday night, when McCaffrey scored a touchdown in his 12th straight game to take the title.
CMC tied a record with a touchdown in the second quarter of a 30-12 win over the New York Giants. The 4-yard rush that finished off a 73-yard drive and gave the home team a 17-3 lead will go down in Niners history.
Next week, when the 49ers play the Arizona Cardinals, who haven't won yet and have given up 51 points in the first two weeks, McCaffrey has a chance to break the record. So far this season, the Cardinals defense has given up three rushing touchdowns, and rival teams are averaging four yards per carry and have a total of 219 rushing yards.
With a few more days to prepare and facing a weaker defense, San Francisco's offense could be just as good next week, and No. 23 could score again.
McCaffrey also has a chance to break the NFL record for most games with a touchdown in a row, which has stood since 1970.
Rice, McCaffrey, and LaDainian Tomlinson, who hit his 12th game in 2004 with the San Diego Chargers, are all tied for fourth. George Rodgers (1985), Emmitt Smith (1994), and Arian Foster (2011), all of the Washington Redskins, have all won 13 straight games. Smith beat his own streak with 14 games in 1995. O.J. Simpson of the Buffalo Bills and John Riggins of the Washington Redskins, both in 1974, had a 15-game run of scoring a touchdown.
McCaffrey would need to score touchdowns in his next three games to tie the all-time record. He would need to score in his next four games to beat the record.
The 49ers' next four games are against the Cardinals at home, the Cowboys at home, the Browns on the road, and the Minnesota Vikings on the road.
Christian McCaffrey Ties 49ers' Jerry Rice Record by YouWager.lv, the best online offshore sportsbook
At YouWager.lv you can wager on the different betting types, such as moneyline, spread, and total, and you can bet either on your favorite team or an undervalued underdog, always with the best and latest wagering lines. Open your account now and receive a 100% bonus on your first cryptocurrency deposit, just click below: