College Football 5 Picks for NCAA Week 3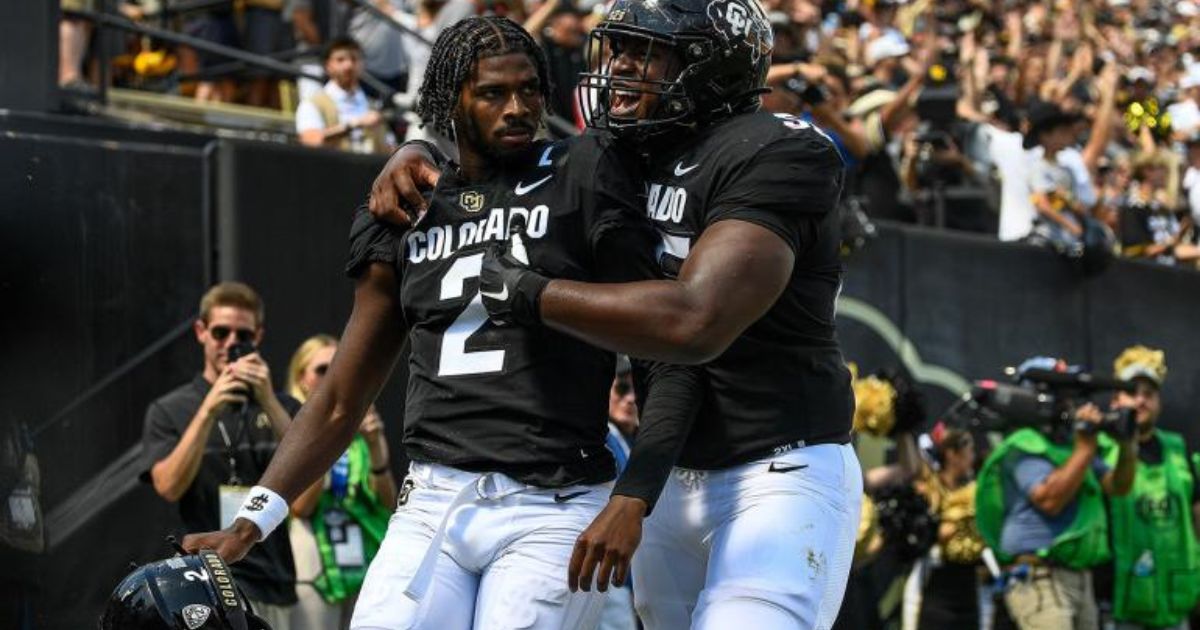 Here are our College Football 5 Picks for NCAA Week 3, bet these games with the best odds at YouWager.lv.
The third week of the 2023 college football season isn't "loaded" with big games. In fact, it's the earliest week in a season without a top 25 meeting since 2019. However, there are a few games that should get fans excited. One of the most talked-about is the nightcap, in which No. 18 Colorado and Deion Sanders take on foe Colorado State at Folsom Stadium.
Even though Coach Prime is in his first season, the Buffaloes look like they will win by more than three touchdowns and move to 3-0. With No. 13 Oregon and No. 5 USC coming up in the next two weeks, it will be tougher to get to 5-0.
In other news, the SEC East's top four teams, at least historically, will play each other for the last time this season. In the first SEC on CBS Game of the Week of 2023, No. 1 Georgia plays South Carolina. In the first SEC on CBS Game of the Week of 2023, No. 11 Tennessee plays at No. 2 Florida. The Gators are looking to beat the Volunteers in The Swamp for the 10th straight time.
College football coverage will be on CBS Sports all day long, starting with the first game. Here are our experts' picks for the best Week 3 games.
College Football 5 Picks: No. 7 Penn State at Illinois
First on our College Football 5 Picks, we have the game between number seven Penn State at Illinois.
Illinois' defense has been bad so far this season, but I think it will get better this weekend. Even though Drew Allar is very good, he is not the type of player who can do two things well, which has been a problem for the Illini. In the first two games, Illinois didn't put pressure on the other team because they were afraid that Dequan Finn of Toledo or Jalon Daniels of Kansas would get away and go on big runs. On the other hand, Illinois's offense has looked good, but Penn State's defense will be by far the toughest it has played. I don't think it will be as bad as the nine-overtime game of 2021, but I also don't think it will have many more points. Pick: Below 48.5.
College Football 5 Picks: No. 14 LSU at Mississippi State
Second on our list of the College Football 5 Picks is the game between number fourteen LSU and Mississippi State.
The college football world will see that all the talk about the Tigers before the season was well-deserved. Jayden Daniels will tear apart the Bulldogs' defense, and Will Rogers will make a lot of mistakes because of the pressure from the Tigers' defense. Also, the game will start early in Davis Wade Stadium, which will make people less excited. Pick: LSU -10.
College Football 5 Picks: South Carolina at No. 1 Georgia
Third on our list of the top College Football 5 Picks for week 3 is the game between South Carolina at number one Georgia.
South Carolina will find it hard to keep up its offensive output against Georgia, especially since the Bulldogs' front seems to have the edge in the tackles when it comes time to put the Gamecocks to the test. I think Georgia's weird one-sack drought ends on Saturday, and the defense shines in a win for the Bulldogs. Pick: Under 55.
College Football 5 Picks: No. 11 Tennessee at Florida
Last season, these two teams scored a total of 71 points in a game that had nearly 1,200 yards of offense and which the Volunteers won 38-33. But since then, both teams have lost at QB and have offensive questions to answer. Tennessee is still working on its important downfield passing game, and Florida needs to show that it can run the ball better than it did in Week 1 when it lost at Utah. Since neither offense is close to being at its best, the punters should have more work to do this year. Pick: Under 59.
Colorado State at No. 18 Colorado
Fifth on our College Football 5 Picks is number eighteen Colorado.
Under Deion Sanders, Colorado has gotten off to a great start. The Buffaloes have had a better start than almost every other team in the country. They beat #1 TCU in their first game, and then they beat Nebraska. More importantly, Colorado is 2-0 against the spread, so at least for a picks section, the Buffaloes should cover again on Saturday. In the first game of the season, Colorado State's defense was picked apart, which makes me think that Shedeur Sanders and his strong group of offensive tools should be able to do whatever they want on offense. Pick: Colorado -23.5.
College Football 5 Picks for week 3 of the 2023 NCAA season, brought to you by YouWager.lv.
At YouWager.lv you can wager on the different betting types, such as moneyline, spread, and total, and you can bet either on your favorite team or an undervalued underdog, always with the best and latest wagering lines. Open your account now and receive a 100% bonus on your first cryptocurrency deposit, just click below: