Chargers at Titans Week 2 Betting Odds and Game Preview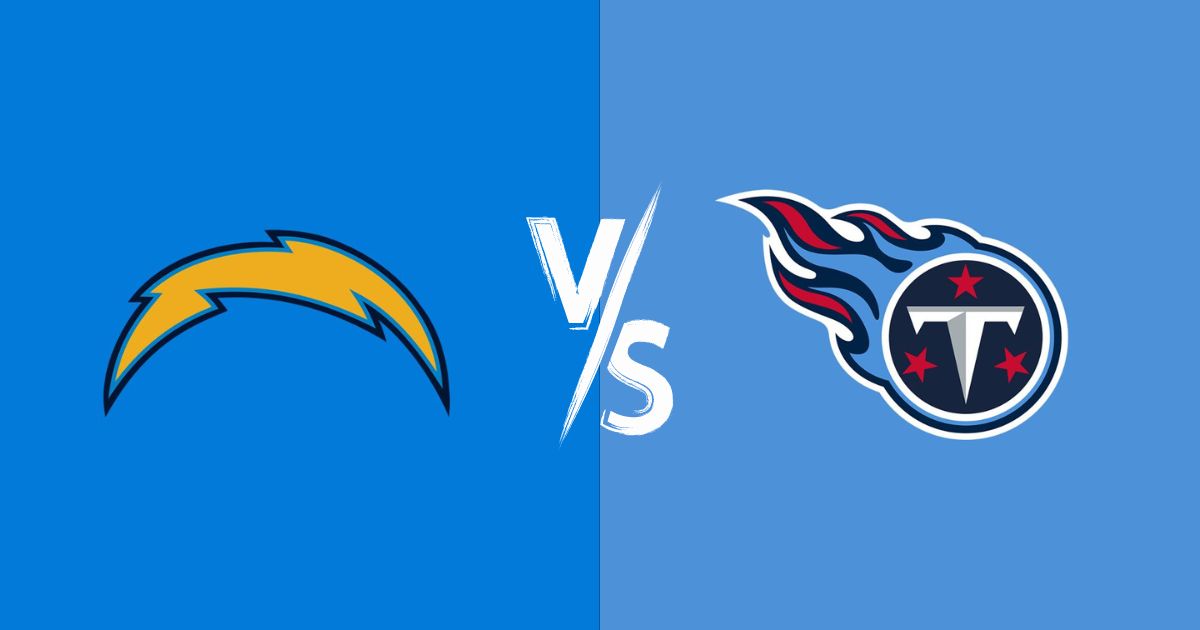 Here is our Chargers at Titans Week 2 Betting preview, odds, and trends for this game that will be taking place at Nissan Stadium.
During Week 1, there were a lot of close games on Sunday, and the Los Angeles Chargers and Tennessee Titans played in two of them.
The Chargers lost to the Dolphins 36-34 in a wild game, and the Titans lost to the Saints 16-15 despite making five field goals.
The Chargers' offense is looking good with Kellen Moore as the new offensive coordinator, but Brandon Staley needs to figure out his defense in LA or he will start to lose his job.
The Titans have a good defense, but Ryan Tannehill made a lot of mistakes. Since offense is more important to Vegas than defense, the Chargers are the home favorites in Week 2.
LA Chargers at Tennessee Titans Week 2 Betting Trends
Chargers at Titans Week 2 Betting trends:
Titans are 1-0 against the spread
In Titans games, the UNDER is 1-0
Chargers are 0-1 ATS.
In Chargers games, the OVER is 1-0
Chargers at Titans Week 2 Betting Odds
Here are the Chargers at Titans Week 2 Betting Odds:
Chargers -3
Titans +3 
Total: 45 Over/Under
Chargers at Titans Week 2 Betting: Injury Reports
Before you get your Chargers at Titans Week 2 Betting action, check out these useful injury reports:
Injury report on the Chargers
Austin Ekeler, RB, ankle injury, day-to-day.
Mike Williams, WR, is questionable to play (head).
Chris Rumph II, LB, is questionable to play (hamstring).
LB Daiyan Henley is day-to-day with a calf injury.
Injury report on the Titans
Will Levis is day-to-day with a quadriceps injury.
OL Dillon Radunz is day-to-day with a knee injury.
Tre Avery, CB, is day-to-day with leg pain.
Kyle Philips, WR, is out for good with a knee injury.
Caleb Farley, CB, is out for the rest of the season.
Chargers vs. Titans Key Players to Watch
The Chargers
Quentin Johnston, Wide Receiver: The Chargers chose Johnston with their first-round pick for a reason. They need to get better at passing and be able to move the ball farther down the field. Still, Johnston only caught two passes for 9 yards in Week 1. The Titans have a great defense against running the ball, and Mike Williams is hurt, so Johnston could play a big part on Sunday.
The Titans
Ryan Tannehill, QB: Week 1 was terrible for Tannehill. And the fact that there are two other players ahead of him on the depth chart makes his problems even worse. The Titans spent a lot of money on Malik Willis and Will Levis to improve the quarterback position. After Tannehill threw three picks in Week 1, the Titans may be in a hurry to get either Willis or Levis on the field.
Chargers at Titans Week 2 Betting Prediction and Pick
Last on our Chargers at Titans Week 2 Betting preview, we have our prediction and pick for the game:
Despite being 2-8 in their last 10 games, dating back to last season obviously, the Titans are 4-4-2 against the spread. Mike Vrabel is the type of coach who finds a way to keep his team in games. Since 2018, when he took over in Tennessee, the Titans are 9-6 against the spread as a home underdog and 9-6 straight up.
I don't have nearly as much confidence in Brandon Staley as I do in Vrabel.
As a road favorite since Staley took over, the Chargers are just 5-4 straight up and are 4-5 against the spread. Staley's teams are not nearly as well coached as Vrabel's.
For example, in Week 1 at the end of the half, Tua Tagovailoa of the Dolphins heaved a hail mary that fell well short of the end zone, but Chargers cornerback J.C. Jackson took a pass interference penalty that gave Miami a free field goal with no time left. That's three free points in a game that was ultimately decided by two.
I see a massive coaching advantage, but there are other reasons to like Tennessee. The Chargers relied so heavily on the run-game against Miami. LA ran for 234 yards in the game while Justin Herbert only threw for 228 yards and one touchdown on 23-for-33 passing.
The whole shift in offensive philosophy was to have Herbert push the ball downfield, but he finished the game with an average of 6.9 yards per attempt, up from 6.8 last season.
The Titans only gave up 69 rushing yards in Week 1 and had the No. 1 rush defense in the NFL last season. Without Austin Ekeler and Joshua Kelly creating explosive plays on the ground, Herbert will be forced to push the ball downfield and we've really not seen him do that consistently in his career. I'll take the points with Tennessee.
The Chargers were also 28th in run defense a year ago, which isn't a great recipe for Derrick Henry. Henry still looked good last week even at 29-years-old.
Chargers at Titans Week 2 Betting odds and preview, brought to you by YouWager.lv.
At YouWager.lv you can wager on the different betting types, such as moneyline, spread, and total, and you can bet either on your favorite team or an undervalued underdog, always with the best and latest wagering lines. Open your account now and receive a 100% bonus on your first cryptocurrency deposit, just click below: