Dolphins at Chargers: Historic Season-Opening Win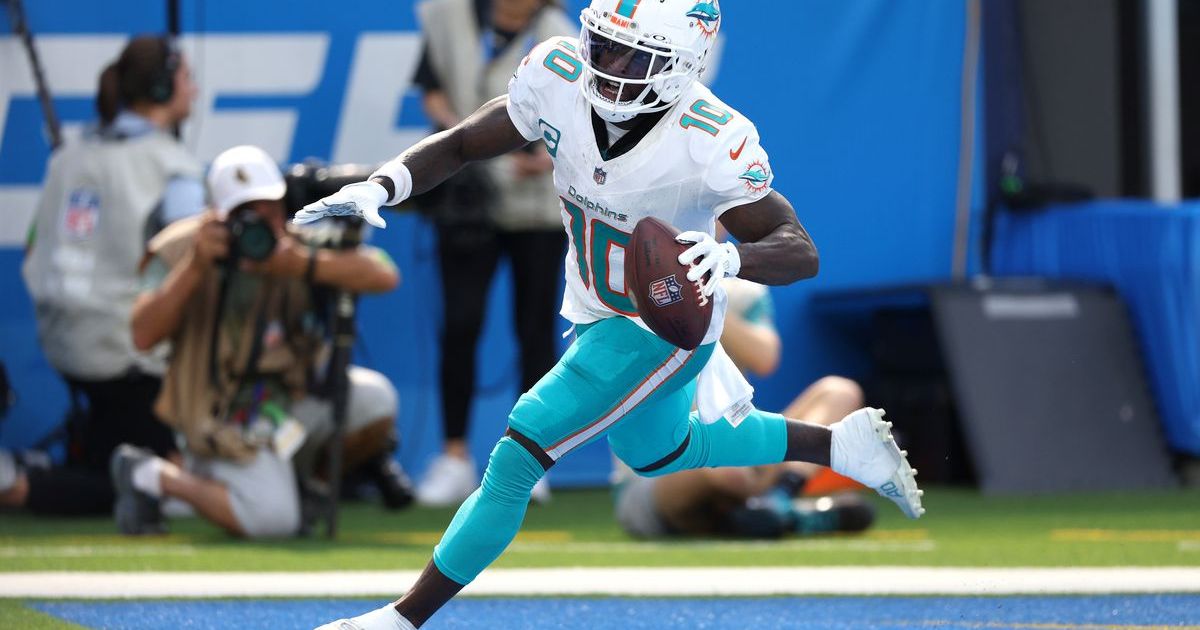 Here's an analysis of Dolphins at Chargers in what it was a history season-opening victory for Miami.
After quarterback Tua Tagovailoa gave the Dolphins a 36-34 lead with his third touchdown pass and 466th passing yard of the day, there were 105 seconds left on the clock. The Miami defenders had to do something to stop the other team. And when it was most important, they did it.
First, veteran cornerback Justin Bethel put pressure on the middle of the field. This caused Chargers quarterback Justin Herbert to intentionally ground the ball. Then, defensive tackle Zach Sieler took Herbert down for a loss of eight yards. On fourth-and-12, Jaelan Phillips, a defender from Southern California, and Bethel took down Herbert again. This sealed Miami's win in Week 1 at SoFi Stadium on Sunday afternoon.
Tagovailoa said of his game-winning touchdown drive, "It was a situation where we needed to go down and score to give our team a chance to be in the lead." "I think our guys did a great job of keeping their cool in the heat of the moment, especially with the plays that happened before we got that thing going, like that pass down the field to [Dolphins WR] Tyreek [Hill]. I'm just really happy for our team."
Tagovailoa's 466 passing yards were the second-best total of his career and the fourth-best total in NFL history for a season-opening game. Two of his three touchdown passes went to wide receiver Tyreek Hill, who ended with 215 receiving yards, the third-most ever in a season opener.
The Dolphins offense got off to a great start when Tagovailoa's first pass of the game went to Hill for 16 yards. Tagovailoa then connected with wide receiver Jaylen Waddle for a 35-yard gain that put Miami in the red zone. But after three plays, a fumbled pass between the quarterback and center was picked up by Nick Williams of the Chargers. This ended what had been a hopeful first drive.
The Chargers took over at their own 6-yard line and moved down the field in 14 plays. With 4:39 left in the game, running back Austin Ekeler scored from one yard out to give Los Angeles a 7-0 lead.
The Dolphins, on the other hand, got right back up. Tagovailoa hit River Cracraft, a wide receiver, for 24 yards to start the drive. Then, on third-and-eight from the Chargers' 39-yard line, Tagovailoa rolled to his left and found wide receiver Braxton Berrios through a small opening to move the chains. Running back Raheem Mostert then ran hard to the two-yard line and scored a touchdown from there to tie the game at 7-7.
On Miami's first play of the second quarter, Tagovailoa completed passes to Hill for 29 and 28 yards, putting the team in Chargers territory. The Dolphins were unable to reach the end zone, so they had to settle for a 23-yard field goal and a 10-7 win.
This lead didn't last long, though, because Ekeler ran for 55 yards to move the ball to the Dolphins' nine-yard line. This set up a one-yard touchdown pass from Chargers quarterback Justin Herbert to tight end Donald Parham Jr., giving the home team a 14-10 lead with 9:07 left to play.
In the second half of the second quarter, the Dolphins offense kept making big plays. This time, it was tight end Durham Smythe who got the ball. On the same drive, he caught passes for 18 and 16 yards and gained 10 yards on fourth-and-seven. Five plays later, Tagovailoa threw a one-yard touchdown pass to wide receiver River Cracraft in the back of the end zone. This put Miami back in front, 17-14.
At the end of the first half, each team kicked a field goal. When time ran out, Jason Sanders' 41-yard kick gave the Dolphins a 20-17 lead.
The Chargers started the second half with a 75-yard drive that took 11 plays and gave them a 24-20 lead. The Dolphins then turned the ball over again when a deep pass meant for Berrios was intercepted.
But the Dolphins' defense, led by second-year safety Kader Kohou, stepped up. Kohou caught Mike Williams, a wide receiver, on a screen pass that went for only one yard. He then stopped wide receiver Keenan Allen a yard short of the first down line, setting up third-and-one. The drive ended when Kohou flew off the edge on a blitz and sacked Herbert at the one-yard line. This gave the Dolphins offense a great place to start after the kick.
With 2:18 left in the third quarter, Tagovailoa threw a touchdown pass of 35 yards to Hill on the next play. This gave his team a 27-24 lead.
Tua and Tyreek are a problem#FinsUp pic.twitter.com/ccYE6CWxrQ

— YouWager.lv (@YouWager_FF) September 11, 2023
With just over 14 minutes left, Chargers running back Joshua Kelley scored on a two-yard run to give Los Angeles a four-point lead, 31-27.
Both teams traded field goals, and when it was 34-30, Tagovailoa had the ball and a chance to win the game for good. On third-and-10 from Miami's 25-yard line, he stepped up in the pocket, got out of the pressure, and threw a 47-yard pass down the field to Hill, who was running.
Tagovailoa had another third down later in the drive. He threw a perfect pass to Hill in the corner of the end zone, this time for a four-yard touchdown.
The rest was taken care of by Miami's defense, and the Dolphins won an exciting 36-34 game.
At the end of the day, Herbert had 228 yards passing and the Chargers had 234 yards on the ground.
On Sunday Night Football on September 17, Miami will be back on the road to play the New England Patriots. The game will start at 8:20 p.m. ET at Gillette Stadium and can be seen on NBC.
At YouWager.lv you can wager on the different betting types, such as moneyline, spread, and total, and you can bet either on your favorite team or an undervalued underdog, always with the best and latest wagering lines. Open your account now and receive a 100% bonus on your first cryptocurrency deposit, just click below: