Warriors vs Lakers Betting Odds, Game 1 Prediction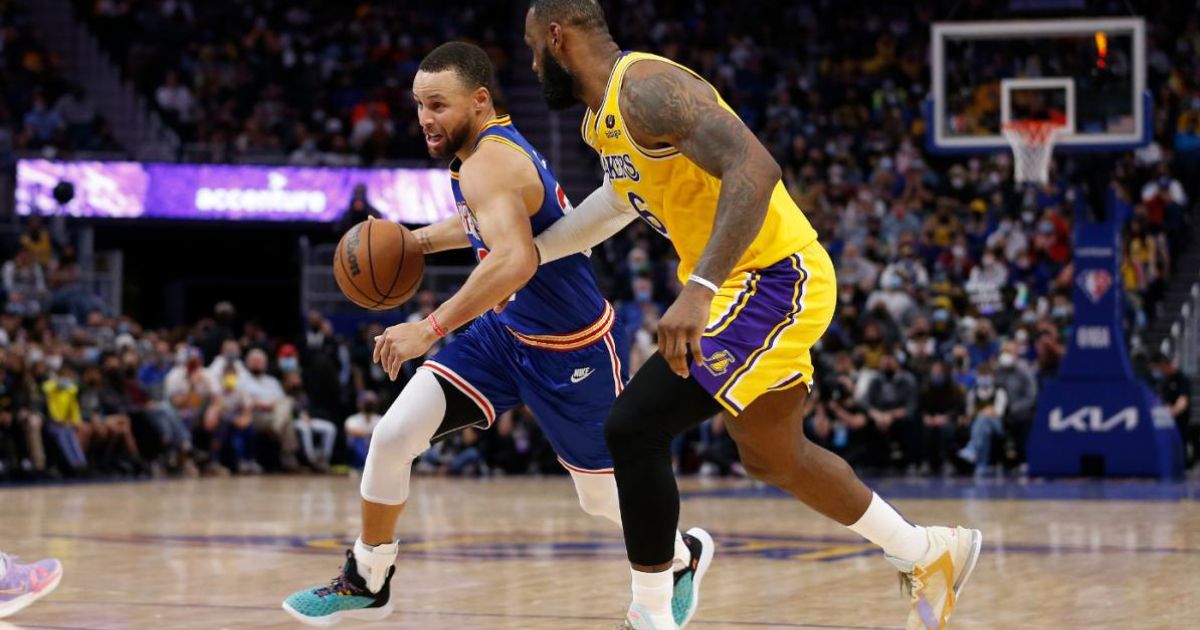 Here are the Warriors vs Lakers Betting Odds and our prediction for the first game of this Conference Semifinals series.
People, get your popcorn ready. It's time for another matchup between LeBron James and Stephen Curry.
The two stars have played against each other four times in the NBA Playoffs, but this game will be different. Why? When James was still in the Eastern Conference, they had fought before. Now that he is in the Western Conference, this will be the first time they've played each other in the playoffs before the Finals.
Both Los Angeles and Golden State had ups and downs during the regular season, but now is the right time for both teams to be at their best. In the first round, the new-look Lakers beat the Grizzlies, while the Warriors came back from being down 2-0 to beat the Kings.
A spot in the Western Conference Finals is at stake. The winner will play either the Nuggets with Nikola Jokic or the Suns with Devin Booker and Kevin Durant.
Who is better, the Lakers or the Warriors? Here is all the information you need about the series.
Warriors vs Lakers Betting Odds
These are the Warriors vs Lakers Betting Odds for NBA Conference Semifinals Game 1, brought to you by YouWager.lv:
Los Angeles Lakers: Point Spread +4.5, Money Line +165
Golden State Warriors: Point Spread -4.5, Money Line -190
Total: 228 Over/Under

Warriors vs Lakers Schedule
Now we have the schedule for the Warriors vs Lakers Conference Semifinals Series:
| | | | |
| --- | --- | --- | --- |
| Date | Game | Time (ET) | TV channel |
| May 2 | Game 1 | 10 p.m. | TNT |
| May 4 | Game 2 | 9 p.m. | ESPN |
| May 6 | Game 3 | 8:30 p.m. | ABC |
| May 8 | Game 4 | 10 p.m. | TNT |
| May 10 | Game 5* | TBD | TNT |
| May 12 | Game 6* | TBD | ESPN |
| May 14 | Game 7* | TBD | TBD |
Warriors vs Lakers Regular Season Series
Next in this preview of the Warriors vs Lakers Conference Semifinals Series, we have the information on how the regular series went between these two teams.  And, as we can see, it was LA that took 3 out of 4 games:
October 18, 2022: Warriors 123, Lakers 109
February 11, 2023: Lakers 109, Warriors 103
February 23, 2023: Lakers 124, Warriors 111
March 5, 2023: Lakers 113, Warriors 105
The Lakers won the season series even though James only participated in two games. On February 11, Dennis Schroder led the Lakers to win with a game-high 26 points. Then, on March 5, Anthony Davis scored 39 points, pulled down eight rebounds, and handed out six assists to lead the team to victory.
Golden State Warriors vs Los Angeles Lakers Key Storyline: LeBron James vs Stephen Curry
What else were you expecting?
James and Curry are still two of the NBA's top players and biggest stars despite being in their late 30s. In our most current player rankings, James came in at number eight, while Curry came in at number three, trailing only Jokic and Giannis Antetokounmpo.
In his 20th season, injuries limited James to just 55 games, but he still performed at an All-NBA level, averaging 28.9 points, 8.3 rebounds, and 6.8 assists. Curry played in fewer than 60 games, but even so, he averaged some of his finest stats ever: 29.4 points, 6.3 assists, and 6.1 rebounds.
For a while, Curry's season was comparable to the one for which he won the first-ever unanimous MVP award in NBA history.
Together for many years, the two have faced off in four straight Finals. However, you shouldn't make any assumptions about a James vs. Curry matchup, especially while they both continue to play at this level.
They have each only played in eight of a possible 18 games against each other since 2018 because, you got it, injuries.
LeBron James vs Stephen Curry Regular Season Matchups
| | | |
| --- | --- | --- |
| Stat | LeBron James | Stephen Curry |
| Wins | 10 | 10 |
| PPG | 28.8 | 22.3 |
| RPG | 9.0 | 4.2 |
| APG | 6.3 | 6.5 |
| FG% | 51.2 | 45.5 |
| 3PT% | 36.1 | 39.1 |
| FT% | 68.4 | 92.4 |
Even though they both enter the series with four titles each, James and Curry's reputations are already well-established at this stage. With one more championship, James' biggest edge over Michael Jordan in the NBA's GOAT debate would vanish. With one more victory, Curry would tie Magic Johnson, who is his strongest challenger in the debate over the greatest point guard of all time.
Despite how tiresome the legacy talk can occasionally become, there is no denying that James and Curry still have a lot to play for.
Best of luck with your Warriors vs Lakers action at YouWager.lv!