Celtics vs Hawks Betting Odds Game 1, Playoffs Series Preview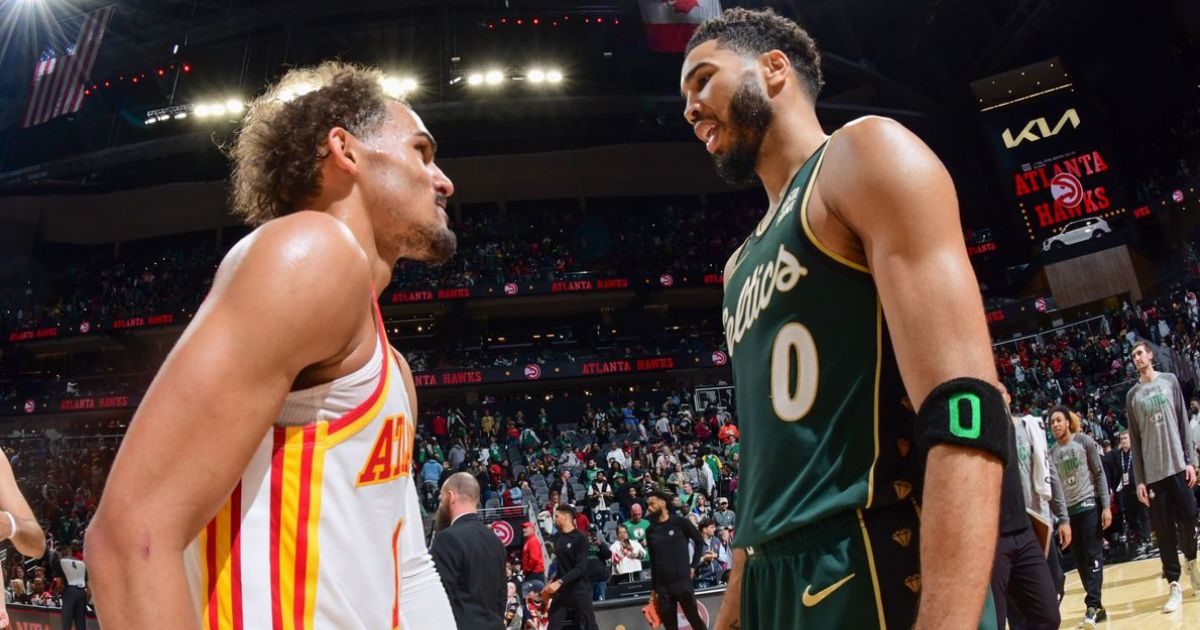 Here are the Celtics vs Hawks Betting Odds for game 1 and a preview of this NBA Playoffs Series.
After the Hawks surprised everyone by beating the Heat in the Eastern Conference Play-In Tournament, they will play the No. 2 seed Celtics in the first round of the NBA playoffs.
In the Play-In, Atlanta dominated Miami on the boards, outrebounding the Heat 63-39, with an offensive board advantage of 22-6. Clint Capela ended up with 21 rebounds, and Trae Young did what he does best by scoring 25 points, getting eight rebounds, and giving out seven assists.
Now, the Hawks have to play the Boston Bruins in the first round, a team they haven't beaten this season. Since 2016, when Al Horford was on the Hawks team that sent the Celtics home in the first round, the two teams haven't met in the NBA Playoffs.
Will the Hawks be able to keep their winning streak going and pull off another surprise? Or will the Celtics go on a "revenge tour" to get back to the NBA Finals and show that they mean business?
Below is a breakdown of the series from the YouWager.lv blog.
Celtics vs Hawks Betting Odds
Check out the Celtics vs Hawks Betting Odds, brought to you by YouWager.lv:
Atlanta Hawks: Point Spread +9 -110, Moneyline +310
Boston Celtics: Point Spread -9  -110, Moneyline -400
Total: 230.5 Over/Under
Before placing a wager on this particular game or any other game from the NBA playoffs, we recommend giving this article on how to bet on sports a quick look so you can be even more prepared to get a positive outcome with your action. Once you feel completely ready to place a bet, you can head to YouWager.lv, and open your personal wagering account. You will be credited a 100% sign-up bonus with your first crypto deposit:

Celtics vs Hawks 2022–23 Regular Season Series
All three of Boston's games against Atlanta this season were wins.
Celtics 126, Hawks 101, November 16, 2022
Celtics 134, Hawks 125, March 11, 2023
Celtics 120, Hawks 114, April 9, 2023
When the Hawks played the Celtics for the first time this season, they did so with their whole starting group. However, Atlanta lost both of those games. On the other hand, Marcus Smart and Malcolm Brogdon were out for Boston's first game against the Hawks, and Robert Williams III missed both of Boston's first two games.
The third and final game between these teams shouldn't be taken too seriously because it happened on the last day of the regular season, when most of both teams' usual players weren't playing.
Young did well in both games, scoring 27 points and dishing out nine assists in the first and 35 points and handing out 13 assists in the second, but he didn't get much help from the rest of his team. Boston did a great job of keeping his wingman, Dejounte Murray, in check. In both games, the star guard scored less than his season average (20.5 PPG).
In the first game, the difference was that Boston's bench scored more points than Atlanta's bench, 44-23. In the second game, the Hawks lost because the Jays took over. Jayson Tatum (34) and Jaylen Brown (24) scored 58 points between them to help the Jays win.
The main question in the Celtics vs Hawks game is: Can Atlanta stop Boston from making 3-pointers?
When you look at the two games between these teams when key bench players were playing, one thing stands out right away: the Celtics killed the Hawks from three-point range.
In the first game, Boston beat Atlanta 63-21 from 3-point range. They made 21 of 46 shots (45.7%), and as a team, they gave out 29 assists. In the second game, the Celtics beat the Hawks from beyond the arc by a score of 60-30. They made 20 of their 42 tries (47.6%), and they had 35 assists.
This isn't unusual, since Boston was one of the most selfless and best 3-point shooting teams all season, ranking seventh in assists (26.7) and second in 3-pointers made (16.0) per game while ranking sixth in 3-point efficiency (37.7%).
But its numbers against Atlanta—averages of 32.0 assists and 20.5 3s made on 46.6 percent shooting over two games with usual rotation players available—are all well above its season-long marks.
So how have the Celtics given the Hawks so many good 3-point shot opportunities? By making Atlanta's big players guard on the outside of the court.
In pick-and-pop situations, Boston would often change Clint Capela, John Collins, or Onyeka Okongwu's responsibilities to put them on the ball. Because the Celtics usually have more than one ball handler and shooter on the court at once, they could count on a range of playmakers to make the right reads or extra passes.
Sometimes, players like Horford would just sit on the 3-point line to open up the court. This forced Atlanta's rim guards to crash hard when scorers like Tatum or Brown went for the basket, leaving the Hawks' defense scrambling.
We thank you for checking out this preview of Celtics vs Hawks for the 2023 NBA Playoffs, best of luck with your betting action, and most importantly, enjoy the game!